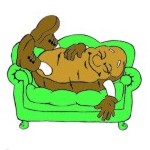 Regional bells and other telcos continued to lose ground to cable companies on the residential wireline and broadband fronts in 2009, with wireless substitution accounting for 60% of the loss in the former. Meanwhile, the relatively small number of 'TV cord cutters' in the US continues to grow–800 thousand now, with predictions of 1.6 million households by year-end 2011, according to the Convergence Consulting Group's (CCG) eighth annual report, "The Battle for the American Couch Potato: Bundling, Television, Internet, Telephone, Wireless."
Telcos' residential wireline telephone voice loss was 11% last year, and CCG forecasts another 10% drop for 2010. The Group estimates the percentage of wireless-only households in the U.S. increased to 24% in 2009, up from 20% in 2008, and that it will increase to 27.5% by the end of 2010.
Cable companies' efforts to gain household telephone market share also continues to be successful. Cable cos' ended 2009 with 22% of residential telephone subscriptions, up from 18% in 2008. CCG forecasts this will continue, with cable cos accounting for 27% of the market by the end of this year.
The news on the TV subscription front is better for telcos, despite the growing number of TV cord cutting households. Two million TV subscribers were added in the U.S. last year, up from 1.46 million in 2008. CCG forecasts a gain of 1.8 million subscribers this year and 1.65 million in 2011.
Cable companies are forecast to continue to lose market share at a 2% per annum clip through 2011, according to CCG, noting that AT&T and Verizon "made headway…due to competitively priced TV and broadband offerings and increased coverage area of their upgraded networks."
CCG's analysts forecast telcos will have 7% of TV subs by the end of 2010 and 10% by year-end 2012, up from 5% last year. Satellite is forecast to make slight gains during the next two years.
The Toronto-based research group forecasts another 5% revenue gain in TV access in 2010 revenues based on 2009's total $84 billion. The percentage of TV subscribers with DVRs is forecast to increase from 35% end of 2009 to 50% by year-end 2012, and the the percentage of TV subscribers with HD to increase to 58% by year-end 2012 from 36% end of 2009.
Cable cos also continue to gain share from telcos when it comes to broadband. CCG forecast that cable cos will maintain their 57% subscriber market share through 2012. Overall, residential broadband subs grew only 4.84 million in 2009 as compared to 8.82 million in 2007, with residential broadband access revenue totaling $35.4 billion. CCG forecasts 10% revenue growth again in 2010.