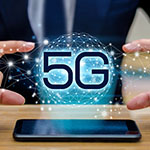 T-Mobile and U.S. Cellular are two of 29 entities that submitted complete applications to bid in an upcoming millimeter wave 5G spectrum auction scheduled to start December 10, the FCC said this week. And although some industry observers have questioned the usefulness of millimeter wave spectrum in rural areas, several rural service providers also are among the 29 likely 5G spectrum auction bidders.
It appears that Verizon also submitted a complete application under the name Straight Path Spectrum, LLC – a unit of Straight Path Communications, a company that Verizon merged with in 2018 in order to gain millimeter wave spectrum. Verizon did not immediately respond to an inquiry from Telecompetitor asking them to confirm the company was bidding as Straight Path.
Ten other companies, including Windstream, also may be able to bid in the auction. Those 10 companies submitted incomplete applications but have until October 22 remedy that situation, according to an FCC public notice.
5G Millimeter Wave Auction Bidders
The December 5G millimeter wave auction, known as Auction 103, will include spectrum in the 37 GHz, 39 GHz and 47 GHz bands. In comparison with lower frequency spectrum, millimeter wave spectrum supports the highest data rates, but over relatively short distances.
T-Mobile, Verizon, U.S. Cellular and Windstream all won millimeter wave spectrum in the 24 GHz and or 28 GHz auctions completed earlier this year, but apparently all the companies are looking to augment those holdings.
While T-Mobile, Verizon and U.S. Cellular are likely to use millimeter wave spectrum for mobile offerings, Windstream is likely to focus instead on fixed wireless. Windstream CEO Tony Thomas said earlier this year that the company wanted to use millimeter wave spectrum to deliver gigabit speeds using fixed wireless technology.
The smaller companies that submitted applications for Auction 103 include some that are primarily mobile and some that focus more on fixed wireless. W.A.T.C.H. TV, for example, is owned by rural telco Benton Ridge Telephone Company and is focused primarily on fixed wireless. In addition to winning $52 million in rural broadband funding for fixed wireless in the Connect America Fund CAF II auction, W.A.T.C.H. is also a Microsoft Airband partner. Airband is Microsoft's initiative to bring broadband to unserved rural areas, mostly using fixed wireless.
A complete list of entities that submitted complete applications for Auction 103 can be found here. Companies that submitted incomplete applications are at this link.