T-Mobile today introduced the Magenta MAX plan, which will provide unlimited 4G and 5G data on users' smartphones without throttling for heavy data usage. Magenta MAX launches Wednesday.
Customers under all MAX plans, including those for single-line users, can stream video with UHD (ultra-high definition) streaming up to 4K resolution and Netflix on Us. Also included in the Magenta MAX plan is 40GB of mobile hotspot high-speed data.
T-Mobile is also doubling the data available on the core Magenta plan from 50GB to 100GB, and nearly doubling the high-speed smartphone mobile hotspot data, from 3GB to 5GB without an additional cost.
The MAX plan is priced $10 higher than the standard Magenta plan. Standard Magenta plans limit 4G and 5G data bandwidth, so called premium data according to T-Mobile, to 100 GB per month, whereas the MAX plan has unlimited premium data. But only for smartphone use, not mobile hotspot use.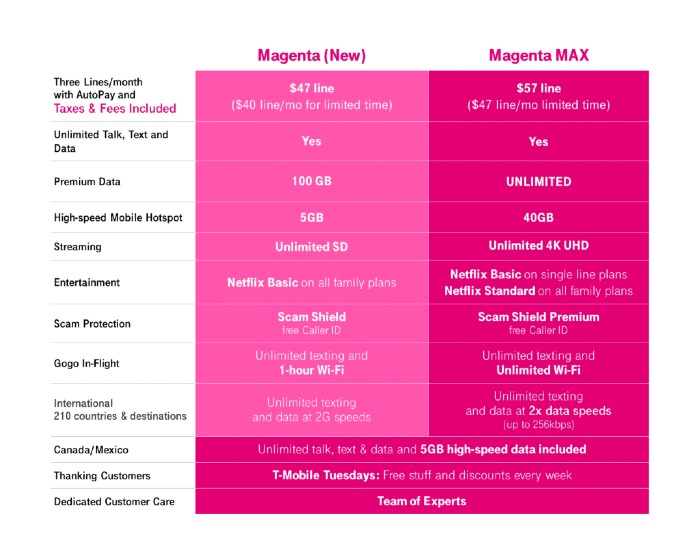 The carrier is encouraging customers who get 5G service from other carriers to switch to T-Mobile. "Bring that new 5G phone to T-Mobile, get up to $650 per line to pay it off and there are zero device switching costs," T-Mobile says in a press release about Magenta MAX. "Keep your phone, switch without the switching costs AND unleash 5G on the nation's largest and fastest 5G network."
T-Mobile Magenta MAX
"When you're a heavy data user with a super-fast 5G smartphone, you don't want to be hit with speed bumps," T-Mobile CEO Mike Sievert said in a prepared statement. "It's like having a Ferrari and being forced to drive it in the school zone."
"5G can deliver more data, faster, but consuming more, faster can quickly run afoul of rules found in plans built for 4G networks," Jason Leigh, IDC research manager, 5G and mobile services research, said in a prepared statement. "Redesigning the traditional wireless service plan to take advantage of what 5G can do will create customer enthusiasm for a truly meaningful 5G experience."
T-Mobile may have waited to launch Magenta MAX until the company had substantial deployments in the 2.5 GHz band, which supports higher speeds in comparison with the lower-frequency spectrum in which T-Mobile initially launched 5G service.
T-Mobile added vast mid-band 2.5 GHz spectrum holdings that the company gained when it acquired Sprint last year. The spectrum is widely viewed as providing the optimum mixture of range and speed for 5G.
The company's deployments of 5G in the 2.5 GHz band has hit peaks of 1Gps, with average speeds of around 400 Mpbs. The company is hoping to have "nationwide" penetration of mid-band 5G, defined as when it reaches 200 million people, by the end of this year.