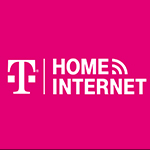 T-Mobile will begin a limited trial of its LTE-based fixed wireless service, dubbed T-Mobile Home Internet, this week, the company said today. The 50 Mbps service will sell for $50 per month without a data cap – although the company states that during congestion, "Home Internet customers may notice speeds lower than other customers due to data prioritization."
The offering is by invitation only to existing customers in select "rural and underserved" areas, which the carrier did not specify. The company hopes to connect up to 50,000 homes this year.
In a press release, T-Mobile said the new offering was just the beginning of what the company could accomplish if its merger with Sprint is approved. The merger would bring Sprint's broad mid-band spectrum holdings into the T-Mobile fold, which according to the release, would give the merged company the capability to offer T-Mobile Home with  speeds up to 100 Mbps to more than half of U.S. zip codes by 2024, when the company potentially would serve 9.5 million U.S. households.
T-Mobile Home Internet
T-Mobile first began talking about the possibility of using Sprint spectrum to bring broadband to rural areas last June, when the plans came to light in a filing the company made with the FCC. Several months later, T-Mobile increased the number of homes it said it could reach with fixed wireless, and earlier this month the company previewed today's news when it said it would be announcing something soon about fixed wireless. At that time, the company said it expected to use a mixture of 4G and 5G technology to support fixed wireless service.
The T-Mobile Home Internet news comes at a time when interest in fixed wireless is booming, although just how broadly it will be deployed remains unclear. A large percentage of the rural broadband funding recently awarded through the Connect America Fund auction will go toward fixed wireless projects. And major carriers, including AT&T and Verizon, have been deploying the technology.
Fixed wireless can be cheaper to deploy than fiber-to-the-home (FTTH), and technology advances have improved its performance, including boosting the speeds it can support – although those speeds generally cannot match the speeds that FTTH can support.
Today's news about T-Mobile Home Internet comes just one day after telecom financial analysts at MoffettNathanson released a research note suggesting that it will be difficult for Verizon to make a profit with its Verizon Home fixed wireless offering. While that offering is similar to what T-Mobile has outlined for T-Mobile Home Internet, a key difference is that Verizon is using millimeter wave spectrum, which has less range than the mid-band spectrum that T-Mobile proposes to use for its long-term offering.