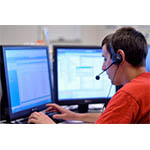 T-Mobile has rolled out a new service, T-Mobile for Business Help Desk, designed to save some of the expense of IT support. Interestingly, it's not focused on tech support for wireless devices. The service will cost users $40 a month. There are no annual service contacts.
For that fee, users will receive live help for installing, setting up or troubleshooting hardware and software for Windows and Mac devices through the new Help Desk app. This is a service long-needed by small businesses, according to T-Mobile, which estimates that more than four in five businesses (81%) don't have a dedicated IT resource for these activities.
T-Mobile for Business Help Desk
Among the services users will receive with T-Mobile for Business Help Desk:
Live, on-demand support from a dedicated team of U.S.-based technicians via phone or chat through the Help Desk app, seven days a week from 8 a.m. to midnight Eastern Time
Quick response time – calls or chat requests will be answered in 30 seconds or less
Software installation and configuration help for Windows and Mac OS devices and their peripherals
General "how to" assistance for popular business software
Assistance installing business software updates
Remote screen sharing and/or remote desktop control assistance for troubleshooting
Help interpreting error messages and assisting with error resolution
Assistance with virus detection and removal
"Technology powers nearly every aspect of businesses today. Workforces are becoming increasingly mobile, and it all just needs to work," said Mike Katz, T-Mobile for Business executive vice president, in a prepared statement. "Most small businesses don't have the time, money or technical expertise to manage IT and deal with unexpected tech issues — IT support can cost more than $100 an hour — so they often go without any IT support at all. We built Help Desk for them, to provide the tech support they need for everything from software installation and configuration to cloud storage setup and much more, at a price point that makes it totally accessible."
Image courtesy of flickr user tyle_r.