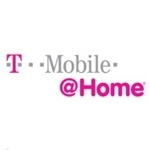 Apparently T-Mobile is no longer offering their $10/month home phone service. The @Home product was a 'Vonage like' VoIP service that gave customers home phone service via their broadband connection.
T-Mobile provided a Linksys adapter that connected to a customer's broadband network and any home phone. The home phone service was offered to T-Mobile's wireless subscribers for an additional $10/month.
T-Mobile also offers a Hotspot@Home service, which is their current version of a femtocell (although it's officially UMA technology), allowing T-Mobile customers to route wireless calls over their home broadband connection.
@Home was seen as a move by T-Mobile to further encourage customers to cut the cord for home phone service and see T-Mobile as their exclusive provider of communications service. By subscribing to T-Mobile wireless, you could get your home phone service too, for only $10 per month. Maybe they decided the additional incentive is no longer needed. The latest data shows that 23% of all households are wireless only.