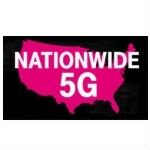 T-Mobile, Ericsson and Intel claim to have completed the first 5G data call and video call on 600 MHz spectrum. The calls, which included uplink and downlink communications, were done on a live commercial network and provided a 5G coverage area of more than 1,000 square miles from a single tower.  The companies did not say what bandwidth the data call supported.
"5G will power vibrant new use cases that span across network, client and cloud—spurring the convergence of computing and communications that will enable exciting use cases ranging from virtual and augmented reality and gaming, to smart cities, connected cars and intelligent data analytics," Sandra Rivera, the senior vice president of Intel's Network Platform Group, said in a press release. "This collaboration with Ericsson and T-Mobile conducted over low-band spectrum and using the Intel® 5G Mobile Trial Platform is a major milestone on the path to enabling the first wave of these types of 5G experiences."
5G Coverage Area
According to a press release, the goal of the "new" T-Mobile – a company that includes Sprint — is to use the 600 MHz band to deliver "a broad layer of 5G" that will "balance" millimeter wave (mmWave) approaches that have trouble passing through objects and has limited range of less than a square mile. However, the companies also did a three-user triband call over 600 MHz, 28 GHz and 39 GHz band spectrum.
5G is a huge transition for the broadband industry and therefore has ignited significant marketing and technology claims and counter-claims. AT&T and Verizon initially are focusing on mmWave approaches and claim that though it will take longer to deploy, the approach supports higher bandwidth and provides the truer vision of 5G. T-Mobile – which has never said it won't use mmWave – has placed its bet, initially at least, on the 600 MHz band, which the company notes is ready now and supports a much larger 5G coverage area in comparison with mmWave.