With T-Mobile's announcement today that it will purchase numerous lower 700 MHz A-block licenses from Verizon, the prospects are looking better for other A-block spectrum holders, including many small rural carriers. And according to T-Mobile CEO John Legere, the transaction represents "the biggest move yet" that T-Mobile has made toward meeting a goal of being the "leader in network performance."
Legere made his comments on a conference call with media and analysts this morning to announce the transaction. The spectrum that T-Mobile is buying from Verizon covers 50% of the U.S. population, including 9 of the Top 10 markets and 21 of the Top 30 Markets, Legere said.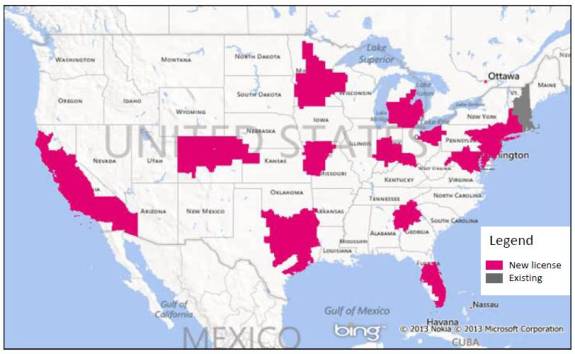 The 700 MHz A-block potentially is prime spectrum because it has excellent propagation, thereby supporting excellent in-building reception and minimizing construction costs. But to date it has been deployed in only a handful of markets because of concerns about potential interference in markets that have a television station operating on Channel 51.
According to Legere, however, more than 50% of the license areas the company is acquiring are outside Channel 51 service areas, where construction could begin immediately. In addition, T-Mobile Chief Technology Officer Neville Ray said "mitigation techniques already exist" that could expand those areas even further. He also noted that broadcasters using Channel 51 would need to move as a result of the TV broadcast incentive auction, which FCC Chairman Tom Wheeler has said will occur by mid-2015. Wheeler's promise "added certainty" about the auction, Ray said.
Even though small rural A-block licensees may not have an operational Channel 51 in their markets, many of them have not built out their spectrum because without a large national carrier using the A-block, it has been difficult for the carriers to obtain handsets at reasonable prices. That issue became less of a concern with AT&T's pledge late last year to use devices capable of operating in the A-block as well as its own lower 700 MHz B- and C-blocks and to allow A-block devices to roam on its network, however. And with T-Mobile joining AT&T in supporting the A-block, handsets could be even more competitively priced and the number of available devices could be even broader. According to Ray, multiple A-block handsets will be available before the end of 2014.
T-Mobile executives on today's call said they would like to acquire additional lower-frequency spectrum. That's a goal that could be achieved in the upcoming broadcast spectrum auction or by acquiring additional A-block licenses – such as the one that Leap Wireless holds in Chicago and which AT&T has pledged to sell off when its acquisition of Leap is completed. Construction of a network in that spectrum band is currently prohibited in Chicago because of Channel 51 interference concerns.
To acquire the A-block licenses, T-Mobile plans to pay Verizon $2.365 billion in cash and transfer AWS and PCS spectrum valued at $950 million. T-Mobile noted, however, that the spectrum it plans to transfer to Verizon is "surplus" and will not impact network construction plans.
The T-Mobile/ Verizon deal requires regulatory approval and is expected to close in mid-2014.