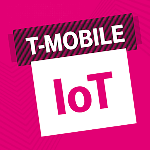 T-Mobile announced today its asset tracking service, T-Mobile BeeAware, to enable businesses such as logistics providers, airlines, automotive equipment makers, retailers, oil and gas companies, construction companies and others to track their various assets, regardless of where the assets are in the supply chain.
According to the carrier, this is the first asset tracking service on a narrowband IoT (NB-IoT) network in the U.S. The solution is based on BeeAware technology from Roambee.
As companies acquire more assets, some still on pallets in supplier warehouses, some in various stages of delivery and some in the field, they become more complex to track, according to T-Mobile. Employing multiple asset trackers, which is the common practice, becomes costly from a device and service perspective. The T-Mobile solution tracks company assets via its NB-IoT network and will cost $10 per device per month.
According to T-Mobile, 77% of businesses have limited to zero visibility into their supply chains. These businesses may only get shipping updates at key checkpoints along the way, leaving long windows between stops for unforeseen delays that can affect delivery times, impact customer satisfaction, and increase operational costs.
"We've hit a sweet spot of value and security with Narrowband IoT that we think will really kickstart the growth of the asset tracking segment," said Mike Katz, executive vice president of T-Mobile for Business, in a prepared statement. "This is great news for companies that need an asset tracking platform."
T-Mobile's NB-IoT service was the first to launch among the major U.S. carriers. But in the past couple of months, Verizon and AT&T have announced their own NB-IoT services.
Telecompetitor reported in May that Verizon's network covers more than 92% of the U.S. population, according to company estimates. The network complements Verizon's ThinkSpace management platform, APIs, tools and partner ecosystem to help bring NB-IoT-based solutions to market quickly, the company said.
A month earlier, as Telecompetitor reported, AT&T said that it had completed upgrades to its 4G LTE network to support NB-IoT connectivity. AT&T already was serving IoT with a LTE-M network, noted AT&T senior vice president for IoT Chris Penrose in a blog post. Thus, he wrote, the company now offers two low-power wide-area networks (LP-WANs) that support IoT options using licensed spectrum.