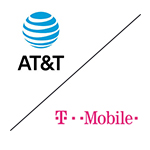 AT&T and T-Mobile are providing SHAKEN/STIR call authentication technology that works across both their networks, in an effort to help customers better decide which calls they answer or ignore.
The action follows a similar move by Comcast that Telecompetitor reported about six weeks ago.
The Federal Communications Commission (FCC) voted in early June to allow carriers to block such calls, as Telecompetitor reported.
SHAKEN/STIR technology enables consumers to know that an incoming call is actually coming from the number listed on the caller ID display – not a spoofed robocall or scammer. The telecom carriers admit that the authentication won't solve the problem of unwanted robocalls by itself, but said that it will help customers have greater confidence and control over the calls they do answer.
For example, a call that is illegally "spoofed" – or shows a faked number – will not be marked as verified. By contrast, verification will confirm that a call is truly coming from the identified number or entity. According to the carriers, the FCC has recommended SHAKEN/STIR standards to digitally validate phone calls. The acronym stands for Signature-based Handling of Asserted Information Using toKENs (SHAKEN) and the Secure Telephone Identity Revisited (STIR).