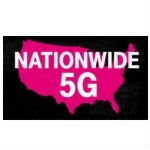 T-Mobile said today that it plans to use some of the 600 MHz spectrum that it won in the recent broadcast incentive auction to support a nationwide mobile 5G rollout in 2020. "The best way to introduce a new technology is to use clean spectrum," said a T-Mobile spokesperson in response to an email inquiry from Telecompetitor about 5G at 600 MHz.
T-Mobile 600 MHz spectrum "provides a superior starting point for building a 5G network with broad coverage," the spokesperson said.
In an increasingly competitive market, wireless carriers are trying hard to one-up each other from a technology standpoint. Both AT&T and Verizon beat T-Mobile in announcing 5G plans, but unlike T-Mobile, both of those carriers are focusing – initially at least – on fixed deployments.
T-Mobile's press release may have been triggered by a recent blog post from a Verizon executive, who said the company did not participate in the 600 MHz auction because it already had sufficient low-band spectrum and that the "next big technological innovations are coming in 5G" which will "thrive on" mid-band and high-band millimeter wave spectrum.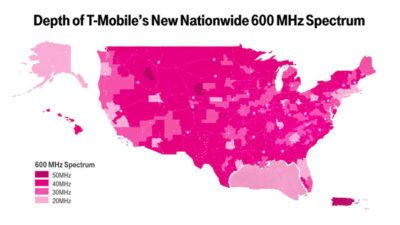 According to the T-Mobile spokesperson, however, "true 5G mobility requires both higher-band (for capacity) AND broad low-band (for coverage) frequencies – and T-Mobile is in an ideal position to deliver on both." The company has 200 MHz of high-band spectrum in the 28/39 GHz bands covering nearly 100 million people in major metropolitan areas and an "impressive volume" of mid-band spectrum in which to deploy 5G as well, the spokesperson said.
5G at 600 MHz
An important goal for 5G is to provide substantially faster data rates in comparison with 4G networks – and traditional thinking has been that this would require broad swaths of spectrum available only at high frequencies (because those spectrum bands haven't traditionally been used for cellular service and therefore broad swaths are available in those bands). High-frequency, also known high-band, spectrum also is better for capacity as opposed to range, as the T-Mobile spokesperson noted.
In pursuit of high-frequency, or high-band, spectrum, Verizon bought XO Communications and both AT&T and Verizon have attempted to purchase Straight Path Communications – two companies with high-band spectrum holdings.
So how does one reconcile this with T-Mobile's blog post about 5G at 600 MHz?
The company did not immediately reply to an email asking what the target data rates are for the 2020 launch. But it would appear unlikely that the company will deliver the ultra-high data rates (1 Gbps or beyond) that are ultimately targeted for 5G. The entire 600 MHz spectrum available nationwide was 70 MHz – and although T-Mobile was the biggest winner, its bids represented only about 40% of the total and not all the T-Mobile 600 MHz holdings will be used for 5G.
[embedyt] https://www.youtube.com/watch?v=V3JSv644PJk[/embedyt]
"Will it be as fast as something running in 200 MHz?" said Iain Gillott, president of iGR Research, in an interview with Telecompetitor. No, he said. He added, though, that 5G standards under development by international standards body 3GPP do not necessarily require support for gigabit speeds but also focus on network architecture and on minimizing latency.
Considering that T-Mobile has 200 MHz of spectrum in the higher bands, the choice of 600 MHz for its initial launch might appear – initially at least — to be a strange one. But the answer isn't difficult to fathom. The downside of higher-frequency spectrum is that it only supports service over relatively short distances – which means all carriers have a lot of work to do to support service nationwide in those bands. T-Mobile is going for nationwide coverage in a short time frame – albeit not at maximum 5G speeds.
Regardless of the speeds it will initially offer, however, T-Mobile's deployment plans may provide other benefits. According to the company and its key supplier Nokia, deploying 5G in the 600 MHz band could be an important step in network evolution. In a press release, Nokia said it will work with T-Mobile on deploying 5G in the 600 MHz band and also noted that "this will bring 5G radio air interface improvements (spectral efficiency in particular) to low bands such as 600 MHz, thus allowing for enhanced coverage benefits."
Nokia added that the companies want to "provide a multi-layer, cross-spectrum blueprint for how the networks of the future will come into existence."
AT&T and Verizon
AT&T's and Verizon's plans to deploy 5G initially as a fixed offering were likely based, at least in part, on a desire to boost broadband data rates without the expense of deploying fiber in order to better compete with cable companies. Both companies have said they plan to deploy mobile 5G when standards are finalized and that fixed 5G will pave the way for that migration.
T-Mobile's news today offers a different concept for 5G's evolutionary path.
Importantly, both AT&T and Verizon plan to use high-band spectrum for the fixed launches, which – in theory at least — should enable them to deliver more bits per hertz in comparison with what T-Mobile can achieve in the 600 MHz band. And that raises an interesting question: Which is the better evolutionary path to 5G – offering fixed service in frequencies capable of supporting higher bandwidth and then migrating to mobile service or, instead, offering mobile service in frequency bands that don't support the highest bandwidth and then migrating to frequencies that do?
The industry will be watching closely for the answer as all three carriers move ahead with their 5G plans.