The T-Mobile 5G network is experiencing a beneficial "perfect storm," observed the company's president of technology Neville Ray at an online investor conference today. The company's merger with Sprint came at the same time the company was rolling out 5G, creating tremendous investment synergies, Ray said.
"Every dollar we're plowing into this network is doing two things," commented Ray. "It's building capacity, both in LTE and in 5G, to support customer migration onto one network . . . and we're right at this point in time where 5G is happening. And so, every dollar I can pound into this network is advancing our 5G leadership, too. That kind of perfect storm the right way, that doesn't happen very often."
T-Mobile 5G Network
T-Mobile can now claim it has the biggest 5G network, thanks in large part to the company's decision to deploy 5G initially using 600 MHz low-band spectrum, which provides broader coverage in comparison with higher-frequency spectrum.
And while detractors have said that T-Mobile's low-band 5G speeds are unimpressive, Ray argued that they offer an "incremental and meaningful" improvement over LTE.
While average LTE speeds are in the range of 40 Mbps, T-Mobile's average 5G speeds in low-band spectrum are around 80 Mbps, he said.
The company also has begun rolling out 5G using the 2.5 GHz mid-band spectrum that came with the Sprint merger, and those speeds currently average about 300 Mbps and will increase in the future, Ray noted.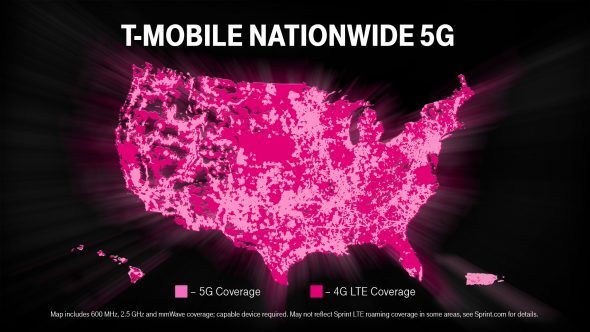 To date, T-Mobile has deployed 5G in 60 MHz of 2.5 GHz spectrum but plans to add at least 20 MHz more of spectrum in the band, which should increase speeds further, enabling a 10-fold increase over current LTE speeds, Ray explained.
Ray sees T-Mobile 5G service being particularly appealing in the rural areas that the company pledged to serve as a condition of regulatory approval of the Sprint merger. The company has six years to meet those commitments, but Ray said the company hopes to do so within four years.
T-Mobile's rural plans include both mobile and fixed wireless, and Matt Staneff, T-Mobile executive vice president and chief marketing officer, noted on today's webcast that the company sees opportunities to bundle the two offerings together.
Pointing to strong results from a fixed wireless trial in Grand Rapids, Michigan, Staneff said T-Mobile is "confident" it will be able to serve up to 50% of households in the U.S.
The Un-carrier Future
T-Mobile has had major success with its Un-carrier strategy focused primarily on more consumer-friendly product offerings. But until now, those offerings haven't been enough to lure those customers that are most interested in network quality, Staneff noted. Moving forward, however, T-Mobile sees that changing.
As T-Mobile Executive Vice President and Chief Financial Officer Peter Osvaldik sees it, T-Mobile will offer "the best network and the best value."
Ray, Staneff and Osvaldik made their comments about T-Mobile 5G network strategy as part of the Oppenheimer Technology, Internet and Communications Conference.