T-Mobile said today that it has launched standalone 5G service nationwide – an accomplishment that also increased the T-Mobile 5G footprint by 30%, according to the company.
Although T-Mobile already claimed a nationwide 5G launch, the service initially relied on an LTE core network, sharing that network with previous-generation services. Standalone 5G uses a dedicated 5G core network.
T-Mobile deployed 5G primarily using low-band 600 MHz spectrum, but the company's LTE service uses mid-band spectrum. Lower-band spectrum provides greater range than mid-band spectrum, and as T-Mobile explained in a press release, "without SA [stand-alone] the 5G signal only goes as far as mid-band LTE."
With today's launch, the company said, "600 MHz 5G can go beyond the mid-band signal, covering hundreds of square miles from a single tower and going deeper into buildings than before."
By flipping the switch on SA, T-Mobile "has immediately increased its 5G footprint by 30 percent – now covering 1.3 million square miles in more than 7,500 cities and towns across the country."
Standalone 5G is also designed to decrease latency, and according to T-Mobile, the company has seen an improvement of up to 40% in latency during testing in areas where standalone 5G had already been implemented.
The company also offered a preview of things to come.
"SA, especially when coupled with core network slicing in the future, will lead to an environment where transformative applications are made possible – things like connected self-driving vehicles, supercharged IoT, real-time translation . . . and things we haven't even dreamed of yet," the press release noted.
Rural Showmanship
Although former CEO John Legere has left T-Mobile, the showmanship that he introduced continues, as evidenced by a drone light show that the company put on in rural Lisbon, N.D. to celebrate availability of  T-Mobile 5G in "hundreds" of small towns as a result of the standalone 5G launch.
The nighttime show launched a swarm of lighted drones that formed into a magenta hand, a T-Mobile logo, a U.S. map outline with "5G" on it, and the words "Hello Lisbon," "5G for All," and "Only 5G in All 50 States."
On a video of the drone light show, Ryan Signon of Firefly Drone Show noted that "The drone show works by all the drones taking off together, with every drone being at a very specific place at a very specific time. I think 5G is really going to enhance the drone industry, whether you're sending live video stream or connecting 300 drones in a swarm."
The video and press release stop short of saying the light show was made possible by standalone 5G but it's easy to see that the light show would require strong latency.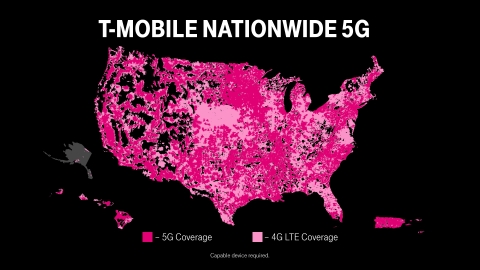 A map included in today's press release illustrates the 30% larger T-Mobile 5G footprint.