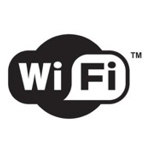 Market research from Ubiquiti Networks sees a strong, perceived link between mobile WiFi Internet access and productivity: while 48% of respondents in a recent survey graded WiFi availability and performance in their hometown a 'B', 70% said their productivity suffers when WiFi isn't readily accessible in the workplace.
Fifty-two percent of respondents to Ubiquiti's latest "State of WiFi Report" said that work-essential apps often can't be used due to poor WiFi availability or reliability in the workplace. Seventy-one percent agreed that they would use more demanding applications, such as video and chat, if higher performance WiFi was more widely available.
Forty-four percent of the 84% who reported WiFi was available at work gave their employers a 'B' grade for its general availability and performance.
"WiFi has become a must-have capability for mobile workers—it's impacting revenue and worker productivity for businesses of all types and sizes," Ubiquiti's chief marketing officer David Hsieh commented in a press release. "Increasingly powerful mobile device capabilities mean user needs are outpacing existing networks in terms of accessibility, dependability and performance."
Key takeaways of the report include:
80% of users say WiFi availability and quality in their city is a B or worse. The five lowest rated cities are: Denver, Sacramento, Philadelphia, Boston and Phoenix.
70% of mobile workers say WiFi availability and quality negatively impact their productivity.
78% of mobile workers say WiFi influences which hotels, restaurants and other businesses they choose.
24% of mobile workers say WiFi quality is getting worse, while 71% would take advantage of better WiFi by using more demanding applications like video chat.
Based on survey results, Ubiquiti also produced a report card for WiFi availability and performance across a range of U.S. cities. Ranking highest in order of satisfaction were:
Minneapolis
Los Angeles and Detroit
San Francisco
Seattle
New York, Washington D.C., Houston and Orlando
Ranking lowest in order were:
Sacramento, Denver, Boston and Philadelphia
Cleveland
Dallas and Chicago
Tampa
Atlanta
On the work place side, advertising/PR, agriculture, insurance, telecommunications and technology scored the highest marks. Transportation, government, automotive, retail and food services scored the lowest.
Moreover, 79% of working professionals surveyed said availability of high-performance WiFi often influences their choice of hotels, restaurants and businesses. Hotels, at 32%, were cited as most in need of improvement followed by restaurants and coffeehouses (19%), public and outdoor spaces (18%), and doctors' offices and hospitals (10%).
In contrast, 5% or less of respondents saw the need for more and better WiFi in planes, trains, airports, malls and shops, schools, convention centers and stadiums.
Examining WiFi complaints, 28% of users said unreliable signals were the most frustrating; 23% said lack of availability; 19% were most worried about security; and 65% felt WiFi just isn't fast enough. Furthermore, 24% of mobile professionals felt WiFi is getting worse at meeting their growing needs, according to Ubiquiti.