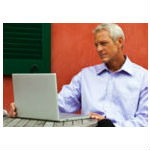 More than half of senior citizens who use broadband (56%) would find it "very hard" to give up the Internet, according to new research from Older Americans Technology Services (OATS) and New York Law School. Perhaps surprisingly the Internet was the only communications means or device cited as "very hard" to give up by more than half of survey respondents.
Slightly less than half of respondents said they would find it "very hard" to give up cable TV (47%), their cellphone (45%) or their landline phone (45%).
"Broadband clearly brings the world to senior citizens," said John B. Horrigan, a senior advisor for the Advanced Communications Law and Policy Institute (ACLP) at New York Law School in a presentation at the Newseum in Washington D.C. today. "Without question it is helping seniors be more engaged with others. . . They clearly value being on line."
The OATS and New York Law School research was based on a telephone survey of 1200 Americans aged 65 or older, including 780 broadband users and 420 who don't use broadband.
Seniors' most important online activity is "communicating with family and friends," the survey found. More than three-quarters (81%) of respondents said that activity was important, including 56% who said it was "very important" and 25% who said it was "somewhat important."
Horrigan noted that research reveals what he called the "cousin effect" among seniors who go online. He defined that as "a huge bump in communication with cousins between year one and year two."
Other popular online activities included "looking for bargains on products," cited as very or somewhat important by 54% of respondents; as well as "learning about health, exercise or diet" and "managing finances such as paying bills online," considered important by 50% and 49% of respondents, respectively.
Some of these activities fall into a category that Horrigan called "distance-killing," meaning that online activities can help minimize the need for seniors to leave their homes to handle some of these tasks.
The role of training
Just over a third (36%) of seniors in the survey had either computer or Internet training, including:
31% who had computer training
17% who had Internet training
5% who had training on a tablet
5% who had training on a smartphone
Training makes a difference in the activities that seniors pursue online, according to the OATS and New York Law School research. For example, 69% of respondents who had some form of training said they get health and medical information on line, compared with 63% of those who did not have training. For visiting government websites, those numbers were 61% and 55%, respectively. And for banking or other financial activities, the numbers were 58% and 53%.
Horrigan said a full report based on the OATS and New York Law School research, which will include information about barriers to broadband use among senior citizens, is forthcoming.