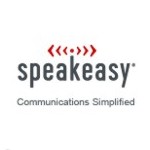 Broadband VoIP, data and IT service provider Speakeasy announced it will merge with Covad and MegaPath–whose own merger is in progress–to create a managed services local exchange carrier (MSLEC) that will focus on offering integrated IP voice, security, virtual private network (VPN) and Internet services to small and medium-sized businesses nationwide. The transaction is expected to close in Q3 given the successful closing of Covad and MegaPath's merger.
"The combination of Covad, MegaPath and Speakeasy will create the next-generation CLEC – an MSLEC that can offer customers and partners a full suite of managed IP broadband services and access over a powerful national network," D. Craig Young, MegaPath CEO, explained in a news release.  "With the additional resources, mature channels and enhancements to the service portfolio, we expect the combined companies to extend their leadership position in the SMB, enterprise and wholesale markets."
Speakeasy counts more than 30,000 small businesses as customers, having grown quickly via a network of 8,000 IT consultant partners. Best Buy bought the company in 2007 and will retain a minority stake in the combined company.
Led by their respective management teams prior to the close of the merger, the new company will be divided into a wholesale operating division and a direct sales operating division upon a successful conclusion. MegaPath CEO Craig Young is to serve as executive chairman. Reporting to Young, Covad CEO Pat Bennett will retain his position while Speakeasy CEO Bruce Chatterley will be president of the commercial unit in charge of all non-wholesale customer sales and marketing.
"Covad's intelligent broadband services platform and advanced network capabilities will provide an exceptional foundation for the collective product portfolios of Speakeasy and MegaPath," added Pat Bennett, Covad president and CEO. "This combination of companies will make these services available to millions of small, medium and large business nationwide directly or through our wholesale partners."