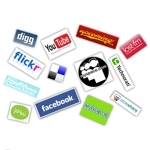 NFL Super Bowl XLIX was the most-watched event in U.S. television history according to Nielsen. Examining mobile app usage during the event Flurry from Yahoo found that "the clear winner was Katy Perry and her half-time extravaganza."
Turning to the competition for consumer eyeballs, Flurry from Yahoo also found that "the Budweiser puppy made us sit up and put down our phones more than any other Super Bowl ad."
Super Bowl and Social Media
Americans were using their phones more during the Super Bowl than on the average Sunday. Zooming in on and indexing second-by-second social messaging app activity, Flurry from Yahoo found that social messaging activity was higher than that for mobile apps overall. "No longer are we limited to cheering (or crying) with those in the living room, we have a nation full of fans with whom to celebrate (or commiserate)," Jarah Euston wrote in a Flurry from Yahoo blog post.
Euston also highlights the "jerky nature of our attention during the Super Bowl." Mobile and social messaging app usage cratered at 6:29 pm to watch the real-life Budweiser Pac Man arcade game but picked them up again at 6:30 pm, Euston notes. "This suggests a big opportunity for advertisers to amplify their message by continuing the campaign within apps."
Citing "the most striking example," app activity surged 20 percent during Nick Offerman's NASCAR commercial which ran five minutes after the game ended. Social messaging activity rose 40 percent.
In contrast, Super Bowl viewers took a break in app usage during the half-time show. App activity dropped about 20 percent below that for the average Sunday during Katy Perry's half-time show. Social app activity picked up just after when the "Always Like a Girl" ad ran.
On the other hand, "[t]he only other drop in app activity greater than 10 percent happened during the end zone fight with 18 seconds left in the game."