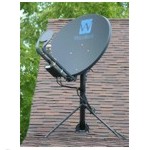 ViaSat announced that its ViaSat-1 broadband communications satellite was launched successfully into Earth orbit on a Proton M launch vehicle from Baikonur Cosmodrome, Kazakhstan by International Launch Services. ViaSat-1 is the highest capacity satellite in the world, according to the company.
The aim of ViaSat-1 is "to transform the economics and quality of service that satellite broadband can provide," according to the company. The broadband satellite system includes the ViaSat SurfBeam 2 ground system, which is already delivering high-speed broadband to Europe via Eutelsat's KA-SAT.
In North America, Via-Sat 1 will be providing a satellite link-up for the broadband Internet services of WildBlue and Canada's Xplornet, through Telesat, Canada. Its coverage area also includes Hawaii.
"The ViaSat-1 launch is a big step in fulfilling our vision for advanced Ka-band networks. We aim to begin consumer service by the end of 2011, and in-flight WiFi service on JetBlue next year, along with several other new, exciting applications," said ViaSat chairman and CEO Mark Dankberg.
The approximate times for the steps to launch Via-Sat 1's commercial services are as follows, according to the company:
Raise the satellite to geosynchronous orbit – 10 days after launch
Deploy the antenna reflectors – immediately following arrival in geo orbit
Complete in-orbit testing (IOT) – 60 days after launch
Handover of satellite from SS/L to ViaSat – upon completion of IOT
Arrive on station at 115° W – one week following final IOT