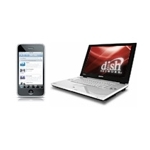 Growing interest in ¨carousel¨ menu offerings, rising SVOD subscription sharing, growing adoption of TV network apps and a growing number of pay-TV TV Everywhere (TVE) offerings are highlights of new subscription VOD research from Digitalsmiths. Digitalsmiths' 2Q 2016 video trends report found that the large majority of pay-TV service subscribers – 77.2% – are ¨satisfied¨ or ¨very satisfied¨ with their service. That figure has stayed at around the same level for two years now, notes a Cablefax report about the research.
Differences in terms of the criteria customers use to choose a pay-TV provider vary among age groups, however. Young adult Millennials are more likely to choose providers that offer more personalized, user-friendly viewing. Nearly 7 in 10 Millennials (67.7%) said they were interested in using carousels, for instance. That compares to 56.1% of other age groups combined.
Features offered by competing OTT providers such as Netflix, Hulu and Amazon Prime are leading consumers to focus more on personalization, and more robust search and discovery mechanisms, Digitalsmiths points out. Sixty-five percent of respondents who subscribe to Netflix said they want carousel discovery incorporated into their pay-TV service as compared to 52.5% of those who don't subscribe to Netflix. Furthermore, nearly nine in 10 respondents (89.8%) who said they would like carousel-type content discovery features also said they would switch to an online app or rental service.
Subscription VOD Research
SVOD adoption increased 29% over the past two years, with 63.9% of respondents saying they used an SVOD service on a monthly basis in 2Q, according to Digitalsmiths' latest quarterly video trends report. The top five reasons respondents said they use SVOD services were convenience, lack of commercials, cost, ability to watch certain shows/entire seasons and better selection.
Accompanying that has been a rise in cord cheating – sharing of passwords. Just over one in 10 respondents who use an SVOD service (10.4%) said they share access with a paying SVOD subscriber.
In addition, Digitalsmiths found that the rise in WiFi-enabled devices coincides with a rise in the number of TV network apps for cable-cutter subscribers. TV network app downloads to tablets and smartphones increased 2.4% year-over-year to reach 30.2%. The top 5 TV network apps were CNN, ABC, HBOGo, CBS and WatchESPN.
Among respondents who have downloaded a TV network app 65.1% use them on a weekly basis, 12.6% above the level two years ago.