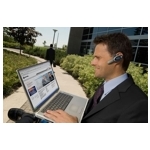 Videoconferencing is proving to be more effective than telephone or email communications when it comes to remote team-working, according to a study conducted by Germany's Fraunhofer Institute for OmniJoin, which is offering a new video and Web conferencing solution from Brother.
Fraunhofer researchers tested the impact of video-conferencing on the behavior and productivity of two teams working at different locations on simulated workplace tasks. Compared to collaborating via telephone and email, they found that using videoconferencing:
70% of participants said they were more willing to engage in the discussion when video-conferencing;
 60% said being able to see other people, and share documents live, made the discussion more open
 81% of participants said that, on phone and email, the task felt divided rather than united – whereas videoconferencing delivered genuine collaboration
74% felt that decisions reached through videoconferencing felt more like joint decisions than those reached via phone/email
79% of participants said communication on videoconferencing was more effective because being able to see others enabled them to concentrate for longer
Videoconferencing is gaining traction as the workforce becomes more mobile. Already commonplace in large organizations, videoconferencing is becoming increasingly popular, and is growing fastest, among small and medium-sized businesses, according to IDC research findings, OmniJoin notes. Twenty-nine percent of U.K. SMEs are using videoconferencing, a percentage that's expected to grow to 63% within five years.
"Our study found that video collaboration enables effective teamwork – as a genuine group process," commented Fraunhofer Institute's Dr. Josephine Hofmann.
"A majority of participants said they were able to concentrate for longer – whereas telephone conferences are stressful and make them switch off. This will have a positive impact on things like motivation, acceptance of the decision and willingness to contribute."