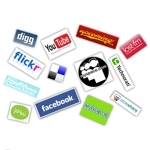 Teens prefer email vs. social media marketing, according to new research from Oxford, U.K.-based Adestra, which specializes in the development of enterprise digital marketing solutions.
The findings are surprising, considering that teens and young adult Millennials have been the principal drivers of growth in social media communications, as well as text and instant messaging
And it's not just teens who prefer email vs. social media marketing. When it comes to being on the receiving end of communications with brands and organizations, most people prefer email, according to the Adestra survey, which included 1,200 respondents from various age groups.
Email Vs. Social Media Marketing
Nearly 7 in 10 teens (68%) and nearly 3 in 4 Millennials (73%) surveyed for the study said they prefer to receive communications from a business via email. More than half said they rely on email when making online purchases. The same was true for older members of Gen X and Baby Boomers, Adestra highlights in a press release.
Many assumed email usage would wane as teens and Millennials stopped using it, Adestra VP of marketing Ryan Phelan noted. "It turns out that the opposite is true. Email continues to be part of everyday life across all age groups, with consumers literally hanging out in their inboxes all day long."
Besides examining the reasons why consumers use email, Adestra looked into when and how they use it. Overall, more than 8 in 10 survey participants (86%) said they send and receive emails via smartphones. The percentage was higher among teens and Millennials. Moreover, 48% of teens and 44% of Millennials said they use their smartphones to check for email messages first thing in the morning.
Successful marketing campaigns and establishing long-term relationships with customers requires creation of content that resonates with prospective customers, and reaches them via preferred channels and times, according to Adestra.
"Successful marketers understand the need to find those micro-moments – that increase relevancy for all age groups . . . The insight gleaned from this study will be invaluable to our clients and the industry," said Phelan.
The full report, ¨2016 Consumer Adoption & Usage Study,¨ is available free with registration on Adestra's website.