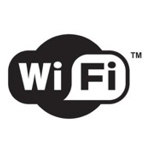 Wi-Fi connectivity has become the norm for a growing variety of retail establishments and shopping malls. Coffee chains, such as Starbucks, were among the first to provide wireless Internet access, so it's fitting that on International Coffee Day (September 29), wefi released its study of Wi-Fi connectivity and usage trends among national coffee chains.
Analyzing Wi-Fi speeds and application usage patterns of coffee chain customers, wefi found that Starbucks, Tully's Coffee and Dunkin Donuts had the fastest Wi-Fi download speeds and greatest total data consumption. In terms of applications, the most commonly used by coffee chain customers were Google Chrome, Facebook and YouTube.
Coffee Shop Wi-Fi Performance
Wi-Fi download speeds at Starbucks outlets "consistently performed better than competing coffee shop chains," wefi highlights. Patrons of Dunkin Donuts, on average, consumed the most data, however. Facebook, YouTube and Twitter drove the most data usage, while Google Chrome was the most popular application, with more than 18 minutes of "foreground data consumption" – the amount of time an application is open and active, wefi elaborated. At 16.78 minutes, Facebook ranked second, while YouTube ranked third at 14.8 minutes.
Sixty-one percent of Americans drink coffee daily, according to the National Coffee Association. "Bandwidth connectivity has become a key differentiator for businesses," wefi points out. A Broadcom survey revealed that, "39 percent of Americans would rather give up coffee over Wi-Fi," wefi noted.
A provider of intelligent network selection solutions used by multiple cable operators across the U.S., wefi collected data from over 45 million hotspots in producing the study.
"Coffee, and by extension, coffee shops are increasingly seen as an indispensable part of Americans' morning ritual," wefi Chairman and CEO Zur Feldman was quoted in a press release. "With many franchisees looking to provide additional services and grow their businesses, the availability of a fast, reliable Wi-Fi offering has become an important consideration."