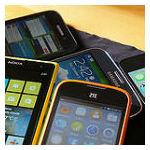 The number of Americans who turn to online news consumption to keep up with current events continues to grow. Surprisingly, online news consumption beat out social media as Americans' top online activity, according to a new Limelight Networks study.
The number of Americans who reported reading the news as their top online activity rose nearly 10% in 2016, surpassing social media, which ranked second. The rise likely reflects public interest in this November's presidential election, Limelight highlights in a press release.
A heft share of respondents (42%) said smartphones were their device of choice when it comes to Internet access for the first time since Limelight began conducting its surveys in 2014. That's nearly double 2015's 24 percent. Laptops were chosen by 24 percent and desktops by 19.
Furthermore, Limelight found that respondents are placing an increasingly high value on mobile device and network speed and quality of experience. Less than half said they would wait longer than five seconds for a website to load as compared to 51 percent in 2015.
"Consumers' time is valuable, and regardless of how they're accessing the internet, they expect the highest quality of experience (QoE)," commented Nigel Burmeister, Limelight VP of Global Marketing.
"Ensuring a website performs to consumers' standards is invaluable to protect a brand's reputation and bottom line. In today's competitive landscape, brands can't afford to ignore the importance of QoE."
Beyond Online News Consumption
There were some significant shifts regarding the average time respondents reported spending online as well. Those who reportedly spent 15 hours or more online on a weekly basis dropped sharply, from 46 to 28 percent, while those that said they spent from five to seven hours online a week nearly doubled to 30 percent.
Other key takeaways include:
Performance impacts e-commerce sales: More than one third (38 percent) of consumers would abandon a poorly-performing website and buy a product from a competitor, up from 28 percent in 2015. When shopping, 61 percent are searching for coupons and discounts, followed closely by researching product information.
Consumers want less personalization amid security concerns: The desire for websites to offer personalized content has significantly dropped from 43 percent in 2015 to 31 percent in 2016. This may be tied to growing concern about privacy.
Millennials are bucking the trend: Today, Baby Boomers spend the most time online, with 31 percent reporting more than 15 hours per week on the internet, as compared to 27 percent of Millennials and 24 percent of Gen Xers. Millennials tend to be the most patient and forgiving of a poor quality experience as nearly half are willing to wait more than five seconds for a website to load before leaving and 15 percent are more likely to give a website another chance when it performs poorly.
Image courtesy of flickr user John Fingas.