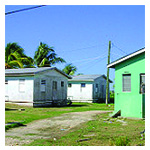 Non-cable Internet providers favor higher-income areas in targeting high-speed deployments, according to a new study of Internet speeds and income from the Center for Public Integrity.
"That leaves tens of millions of Americans with the choice of either purchasing an expensive connection from the only provider in their area, typically a cable company, or just doing the best they can with slower speeds," wrote the Center for Public Integrity in a blog post about the research.
Internet Speeds and Income
Non-cable Internet providers studied in the research about Internet speeds and income included AT&T, CenturyLink, Frontier and Verizon. Researchers looked at broadband availability by speed within providers' service areas and graphed availability of various speeds by the average income level within a community.
Frontier favors its wealthy communities "more than most," researchers wrote. The researchers noted that the company offers high-speed broadband supporting downstream data rates of 25 Mbps or greater to 38% of people in areas where average income exceeds $80,694. But in areas where the average income is less than $34,783, less than 11% of residents have 25 Mbps downstream service available to them.
Although the discrepancy is not so severe with the other three carriers, the same pattern exists, according to the Center for Public Integrity research.
The researchers argue that cable companies "offer the same fast speeds to almost every community they serve, in part because of franchise agreements with local governments."
It's worth noting that this phenomenon is also driven, in part, by technology. Upgrading the data rates for a cable system typically entails swapping out electronics at the headend and doesn't usually require installing additional fiber between the headend and the customer. In other words, upgrading a cable system, by definition, will usually mean making higher-speed service available to everyone on that system.
The Center for Public Integrity researchers note in the blog post that previous research from the center showed that cable companies may avoid lower-income or hard-to-reach areas if agreements give them the option to do so. But what the researchers may be saying is that the cable companies will avoid deploying service at all to certain areas if allowed to make that choice.
Why service providers would tend to avoid lower-income areas is not difficult to fathom. They undoubtedly perceive that they can make more money in wealthier areas – and perhaps in some lower-income areas, it may be challenging for a service provider to break even on a network upgrade.
Policy Implications?
The Center for Public Integrity research blog post doesn't advocate any particular strategy for compelling noncable Internet providers to deploy higher-speed Internet service.
They do note that reforms to the Lifeline program could lead to faster Internet speeds for lower-income families, although they do not delve into details on that. That program is targeting speeds of 10 Mbps downstream and would provide $9.25 monthly toward the cost of broadband service for low-income users, which would appear to be a step in the right direction.
The blog post also hints at another option that might be available to regulators. The researchers note that AT&T had to commit to deploying high-speed broadband to a specific number of locations in order to gain regulatory approval of its DirecTV purchase, but was not required to include service to lower-income areas. Potentially the next time regulators impose merger conditions, they could consider including such a requirement.
It's also worth noting, though, that policymakers actually seem to be moving away from imposing requirements to serve low-income areas. Google chose Kansas City for a gigabit deployment, in part, because local authorities allowed the company to build only where it saw sufficient demand. And other cities are adopting a similar approach as they seek to lure service providers into deploying high-speed broadband in at least a portion of their communities.
Image courtesy of flickr user Roger W.