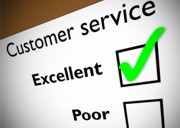 A new customer satisfaction study conducted by CFI, a Michigan based customer satisfaction market research firm, reveals that consumers prefer to receive bundled offerings from telecom carriers over cable companies by almost 2 to 1. The second annual Telecom-Cable Industry Satisfaction Study surveyed 1,200 households for satisfaction with video, broadband Internet access, and wireless communications using the University of Michigan's American Customer Satisfaction Index methodology. The study's authors suggest that "customer satisfaction provides telecom companies with a competitive advantage." Interesting survey findings include:
Nearly 60% of surveyed households now have bundled services (telecommunication, internet, and video), a 13% increase since 2007
Until fiber becomes more accessible, cable will have the edge in speed, but customers are increasingly sensitive to rising rates and poor customer service coming from cable providers
Poor customer service accounts for 40% of churn from Cable TV service
Of customers who will switch carriers, 40% say that the competition offers better rates and plans
Nearly 50% of households are interested in VoIP and IPTV, but awareness for either has changed little over the past year
When telecom customers switch to cable, the primary reason is
faster internet access
Twenty-nine percent of customers have no intention of bundling at all, preferring instead to pick and choose the services that best meet their needs
Providers tend to offer special programs and rates to new customers, while effectively ignoring loyal customers, resulting in extreme dissatisfaction
The last bullet point really struck a chord with me. I often wonder about the strategy of offering the best deals to new customers, often at the expense of existing loyal customers – at least from the existing customer's perception. I recognize the goal with such a strategy is growth, but I wonder if that growth strategy ultimately alienates existing subscribers, causing them to churn away, and thus defeats the purpose.
These study results also seem to somewhat contradict recent J. D. Power customer satisfaction findings, which said that cable companies are beating telcos with telephone service satisfaction. It's not an apples to apples comparison, but it does reveal elements of the bundle appear to be up for grabs. When put in the context of the whole bundle, cable seems to be losing (at least if you believe these CFI results). But when each service is looked at individually, different results may occur.