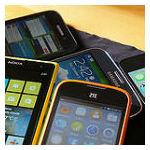 A survey of 2,000 smartphone users in the U.S., Europe and Asia conducted by the Wireless Power Consortium (WPC) reveals a high level of customer satisfaction with wireless charging, an indication that smartphones equipped for wireless charging, as well as associated accessories, will sell well this holiday season and in coming years. Nine of 10 survey participants who said they had used wireless charging said they were satisfied with the experience and performance of products.
Just shy of 7 in 10 (69%) said they believe access to wireless charging would relieve at least some of their "battery anxiety," a syndrome three-quarters said they suffered on a weekly basis and 36 percent said they experienced daily. In addition, nearly half (49%) who said they had purchased wireless charging accessories said they had bought more than one, including 15 percent who said they had bought three or more, WPC highlights. Keeping smartphones fully charged at home ranked highest among choices where wireless charging users placed the highest value on access to the technology. At the office, while driving and at hotels followed in that order.
Satisfaction with Wireless Charging
Other findings from the WPC research:
More than 9 in 10 consumers who have not used wireless charging view it as appealing, with 79% of them expressing intent to purchase a wireless charging product in the near future.
76% of those surveyed reported they would use wireless chargers if they were built into their smartphone. This type of demand also was uncovered in an October 2016 JD Power study, which found that more than half of U.S. mobile subscribers selected wireless charging as the top feature for their next smartphone.
Almost half of current users of wireless charging purchased more than one additional wireless charging accessory in the last three months
According to WPC, consumer awareness of wireless charging is rising quickly, but consumers need to gain first-hand experience in order to better understand its benefits. Nearly 90% (89%) of respondents have heard of wireless charging (confirming the growing awareness found by IHS Markit, which found that the metric stood at 80% in July 2016, 76% in 2015 and 37% in 2014), but only 30% of consumers are familiar with how it actually works.
After using wireless charging, consumers were satisfied with the following functional aspects: a) ease of use, b) safety, c) convenience, d) reliability and e) fast-charging capability. Having the ability to use wireless charging in cars was ranked equally as important as having it by a consumer's bedside or in a living room.
A non-profit industry association, WPC is the developer of Qi, which has become the international standard for wireless charging of a growing range of consumer electronics (CE) products, from smartphones, power tools and furniture to electric vehicles (EVs), according to a news release. WPC's market research also notes growing adoption of Qi's wireless charging standard among leading global brands, a list that includes BMW, IKEA, McDonald's, Samsung, Starbucks and Verizon Wireless.