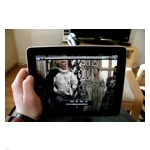 Responding to the ongoing surge in online video viewing, a host of leading companies spanning the industry value chain have joined to form the Streaming Video Alliance. Counting a large, diverse range of online video "ecosystem" participants, the new industry alliance aims to foster "creation of architecture, standards and best practices that will scale infrastructure for online video and improve efficiency for all providers in the ecosystem while preserving a high quality experience for consumers," according to a press release.
Founding Streaming Video Alliance members include carrier network equipment manufacturers Alcatel-Lucent and Cisco; network computing technology developers such as Level 3 Communications; content delivery network providers and online video service providers such as Limelight Networks, EPIX and Yahoo!; as well as cable MSOs and telecoms providers, such as Charter Communications, Liberty Global, Korea Telecom, Telecom Italia and Telstra. Notable in their absence are U.S. telecom industry giants AT&T and Verizon.
Streaming Video Alliance Goals
The alliance's initial focus will be three-fold, it elaborates:
Fostering development of an open, industry-standard systems architecture of network and cloud-based streaming and caching infrastructure;
Enhancing quality of experience by creating a common approach to defining, measuring, optimizing and reporting the quality of the video streaming experience for content providers, network operators and consumers; and
Creating standards for interoperability and performance to ensure content providers, content delivery networks and network operators can efficiently stream high-definition and high quality video to consumers throughout the world.
"In a world where streaming video exponentially grows, the challenge to everyone in the ecosystem is profound," Streaming Video Alliance states. "The magnitude of the online video challenge calls for a new open architecture that can address the scaling of streaming video, operational requirements of content providers, network operators and content delivery networks while preserving the quality of experience expected by consumers."
Image courtesy of flickr user bendodson.