Streaming media players are the most frequently used Internet-connected entertainment devices, according to new research from Parks Associates. Streaming media usage data from the market research firm found just over four-in-ten (41%) of streaming media player owners use the devices daily or nearly daily, researchers said.
These daily or near-daily streaming media player users spend about 10.4 hours a week using such a device to watch video content, according to Parks. By contrast just over one-third (34%) of smart TV or smart PVR/DVR owners use these devices on a daily basis, watching about 9.8 hours of content every week.
Streaming Media Usage
"The smart TV is the most commonly used Internet-connected entertainment device, and it is the device most commonly associated with pay-TV services, but when looking specifically at device owners, consumers are spending more time online with their streaming media players," said Parks research analyst Kristen Hanich, in a prepared statement. "Sixty percent of households that have at least one internet-connected entertainment device own multiple devices – their viewing habits often vary by device as well as by room, with some devices and rooms over-indexing in terms of content type watched."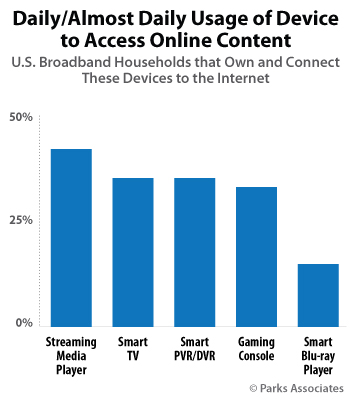 Among the research firm's other findings:
About half of U.S. broadband households own a gaming console, yet a little more than one-third (37%) of these households have bothered to connect that device to the internet.
Nearly half (44%) of U.S. broadband households connect a smart TV to the internet, while 53% of households own this product.
Over 34% of streaming media player owners now own an Amazon Fire TV, up from 28% in Q1 2017.