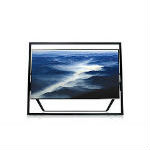 Falling prices will prompt a surge in Ultra HD TV penetration this year, according to new market research from Strategy Analytics. The start of a phase-out of 1080p large-screen models will contribute to rise.
Ultra HD TVs will be present in 1 of 8 North American households come year-end as unit sales rise 72% year-over-year (YoY), the market data company highlights in a press release. That translates to UHD TV penetration of more than 11 million North American homes.
Looking forward, Strategy Analytics forecasts Ultra HD TV penetration of nearly 1 in every 2 homes by 2020. Furthermore, by 2020 all large-screen models (40 inches or larger) sold in North America will be Ultra HD models.
More than 8 in every 10 Ultra HD TVs sold in the region last year had 50-inch or larger displays, Strategy Analytics points out. That will shrink in coming years as smaller screen Ultra HD TVs make their way on to retailers' floors. Nonetheless, Strategy Analytics expects 50-inch or larger models will still account for over half of demand by 2020.
Ultra HD TV ownership is highest in North America although shipments are highest in China. Sales in Western Europe were brisk in 2015 as Germany and the U.K. became the first European countries in which more than 1 million units were sold.