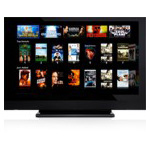 The North American market for over-the-top (OTT) video, which includes subscription video-on-demand (VoD) services such as Netlfix and Hulu, will grow 21 percent in 2014, reaching $10.7 billion, according to new market research from Strategy Analytics. Overall, OTT video revenues are expected to nearly double between 2013 and 2019, to $18 billion.
Accounting for 48 percent of overall OTT video revenues, subscription VoD revenues alone will increase 26 percent across North America this year to total $5.1 billion, Strategy Analytics forecasts. Growth is forecast to continue, with North America OTT subscription video revenues increasing 116 percent to $8.8 billion between 2013 and 2019.
Revenues from retail OTT sales – downloading to own video – will grow 13 percent and reach $1.4 billion, 13 percent of overall revenue. Strategy Analytics expects retail OTT sales across the region will grow 58 percent from 2013-2019 to reach $1.9 billion.
OTT renting – streamed/temporary downloads – will grow 21 percent to reach $681 million, six percent of overall 2014 OTT video revenues. From 2013-2019, OTT video renting will grow at a 74 percent rate and total $980 million, Strategy Analytics says.
Forecast to increase at a 17 percent rate year over year to $3.6 billion, OTT advertising, such as video ads, will account for the remaining 33 percent, according to Strategy Analytics, forecasting that this will grow 109 percent between 2013 and 2019.
According to Strategy Analytics, the average North American broadband user will spend nearly $29 on OTT services this year. That would be up 18 percent from 2013. By 2019, the market research company expects this will increase 78 percent from 2013 to reach $43.51.
"It's amazing to think people spent almost half as much on internet film/TV content last year, such a new industry, as they did on DVDs – a format that's been around for 20 years," Goodman continued. "By the end of this year there'll be about 54 million subscriptions to over-the-top video services such as Netflix, Hulu and MLB.com. In five years this will reach about 69 million – at which point OTT revenues will have overtaken DVDs."
Commenting on its latest North America OTT video market forecast, Strategy Analytics' Director, Digital Media Michael Goodman commented, "Subscription services are the lifeblood of the OTT video industry. An extensive library of TV shows and movies – with just enough blockbuster titles – at an affordable price has proved a compelling cocktail for consumers."
Among OTT competitors, Netflix is the clear winner, Goodman continued. "Barring a totally unexpected collapse, Netflix has won the battle for supremacy in this sector, accounting for about three-quarters of subscription video revenue in North America. With its momentum only growing, the other services, such as Hulu, HBO Go, YouTube and Amazon, are left to fight over the scraps."