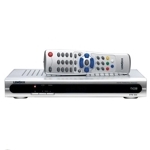 As the set-top box market undergoes major technology changes, it also is undergoing major ownership changes, with two important deals occurring this week. Just two days after England-based Amino said it would acquire STB manufacturer Entone Technologies for $73 million, France-based Technicolor said today that it plans to acquire Cisco's STB business for $600 million.
The ownership changes come at a time when video service providers increasingly are looking to software and cloud-based alternatives to the STB. The deals illustrate that although the STB could be in for major changes, the intelligence underlying it continues to be in demand – although apparently at a lower valuation than in the past.
Cisco entered the STB market a decade or so ago when it acquired Scientific Atlanta for nearly seven billion dollars. Considering the discrepancy between that price and the new one, it's not surprising that a Cisco executive in a blog post made a point of noting that the STB business, which Cisco calls its "connected device" business, has generated $27 billion of aggregate revenue to Cisco over the years and is expected to generate $1.8 billion this year.
The Cisco/ Technicolor Deal
The Technicolor deal calls for Cisco to continue to be involved with the connected device business, the blog post notes.  Shared customers, the executive said, will "benefit from the continued innovation, focus and support of both companies."
Technicolor's press release announcing the deal offers a bit more detail about the anticipated ongoing relationship between Technicolor and Cisco, noting that the two companies have signed a long-term patent cross-licensing agreement covering "specific intellectual property and patents from both companies."
Technicolor said its motivation for the acquisition is to "increase the company's industrial and technological scale in all major geographies."
Multichannel News notes that Technicolor is poised to become the world's second largest STB manufacturer as a result of the deal, which comes not long after the world's current top two STB suppliers – Arris and Pace –announced plans to merge. The author estimates that Arris/Pace will have a 25% market share, while Technicolor's announcement indicates that company will have a 15% share.
The U.S. STB market for years has been a duopoly, initially between Scientific Atlanta and Motorola – and from a product standpoint that hasn't changed, although the Motorola business after changing hands a couple of times now belongs to Arris, and Scientific Atlanta operations are now in the hands of Cisco and soon will go to Technicolor.
The Cisco/ Technicolor deal is expected to close later this year or early next year.
The Amino/ Entone Deal – More STB Consolidation
Entone, meanwhile, has strong STB sales among smaller U.S. pay TV providers.
As with Technicolor's decision to purchase Cisco's STB operations, Amino's goal is to expand its geographic reach and technology breadth. The Entone acquisition "has the potential to transform our business and broaden our reach globally across IPTV, hybrid broadcast and a range of connected home solutions," said Amino CEO Donald McGarva in the announcement of the deal. He also noted that the acquisition aligns closely with Amino's recent acquisition of cloud-TV platform provider Booxmedia.