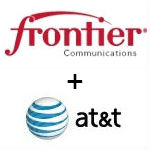 The only carrier other than Verizon to offer Verizon's fiber-to-the-home FiOS service is poised to also be the only company other than AT&T to offer that company's U-verse fiber-to-the-node service. Frontier today said it plans to acquire AT&T's wireline operations in the state of Connecticut for $2 billion in cash.
Those operations are comprised of more than 900,000 voice connections and 415,000 broadband connections including 245,000 U-verse Internet and 170,000 DSL customers. In addition Frontier gains 180,000 U-verse video subscribers.
The transaction, which requires various regulatory approvals, is expected to close in the second half of 2014.
Regulatory Implications
It might seem surprising that AT&T is selling lines that have already been modernized at a time when the company is devoting considerable attention to upgrading its network infrastructure nationwide through Project Velocity IP.
But the deal isn't so surprising considering what's happening – or more precisely isn't happening – on the policy front in Connecticut.
AT&T has been lobbying hard for legislation to deregulate telecom in states where it offers landline service and in many states has succeeded. As the company noted in a press release about the deal with Frontier today, the company's goal is to transform its operations to "an all-IP, wireless and cloud network."
The legislation that AT&T has succeeded in getting passed in some states gives the company more flexibility to phase out traditional services. But efforts to pass that type of legislation in Connecticut have not been successful – and that reality may have played into AT&T's decision to get out of the landline business in that state.
Carriers like Frontier that do not have their own wireless networks generally are more enthusiastic about the potential for wireline networks, however.
Frontier Intentions
In Frontier's announcement about the transaction Frontier Chairman and CEO Maggie Wilderotter today said the deal represents a "great opportunity to bring to Connecticut Frontier's portfolio of products and services, such as Frontier Secure, our industry leading digital security offering." In addition, she said Frontier would be able to implement the company's "local engagement management model" in which Frontier employees become actively involved in their communities.
Tellingly Wilderotter said she sees an opportunity to "enhance broadband capabilities" in Connecticut. She didn't say she anticipated increasing broadband take rates, as it would appear unlikely that the company would make substantial gains there.
Frontier generally doesn't achieve take rates above the 40% range and according to the figures provided by AT&T, the company already has achieved take rates in that range in Connecticut.
The Connecticut public utilities commission, which must approve the transaction, is likely to take a hard look at Frontier's plans for the company, however. Regulators in areas where Frontier acquired FiOS lines were not pleased when the company essentially phased out FiOS video, arguing that it could not afford programming costs.