SpaceX's Starlink satellite broadband service provided connectivity for a demonstration of "quantum-resilient" cryptographic communications using technology from cybersecurity developer QuSecure. The capability is important to securing satellite and other types of communications against current and future attacks, said QuSecure Chief Product Officer Rebecca Krauthamer.
Quantum-resilient cybersecurity aims to address a potential future threat. As quantum computing becomes increasingly sophisticated, governments and financial institutions are concerned that encrypted communications that are secure today will not be secure in the future.
As QuSecure explains in a press release, the concern is that "data harvested today could be decrypted by a quantum computer in the future, an active and ongoing practice known as Steal Now Decrypt Later (SNDL)."
Protecting against this could be especially important for satellite communications which, according to QuSecure "traditionally has been vulnerable to theft, leaving satellite communications even more accessible than typical internet communications."
Krauthamer said QuSecure's technology works over all types of communications links. The technology is "satellite agnostic," she said, and compatible with all satellite communications.

"We believe it's critical to enable post-quantum cybersecurity as broadly as possible, so it's important to work together to be able to protect the ecosystem as a whole," Krauthamer said.
In the Starlink demonstration, QuSecure sent "quantum-resilient" data from their Quark server through labs at Rearden Logic in Colorado to a Starlink terminal. QuSecure then sent the signal via an uplink to a Starlink satellite and then via a downlink back to Earth. All communications were secured using QuSecure technology, which creates a secure quantum tunnel that protects the transmitted data.
QuProtect is QuSecure's brand name for the company's quantum-security-as-a-service offering designed to secure enterprise communications against traditional cyberattacks and future quantum decryption.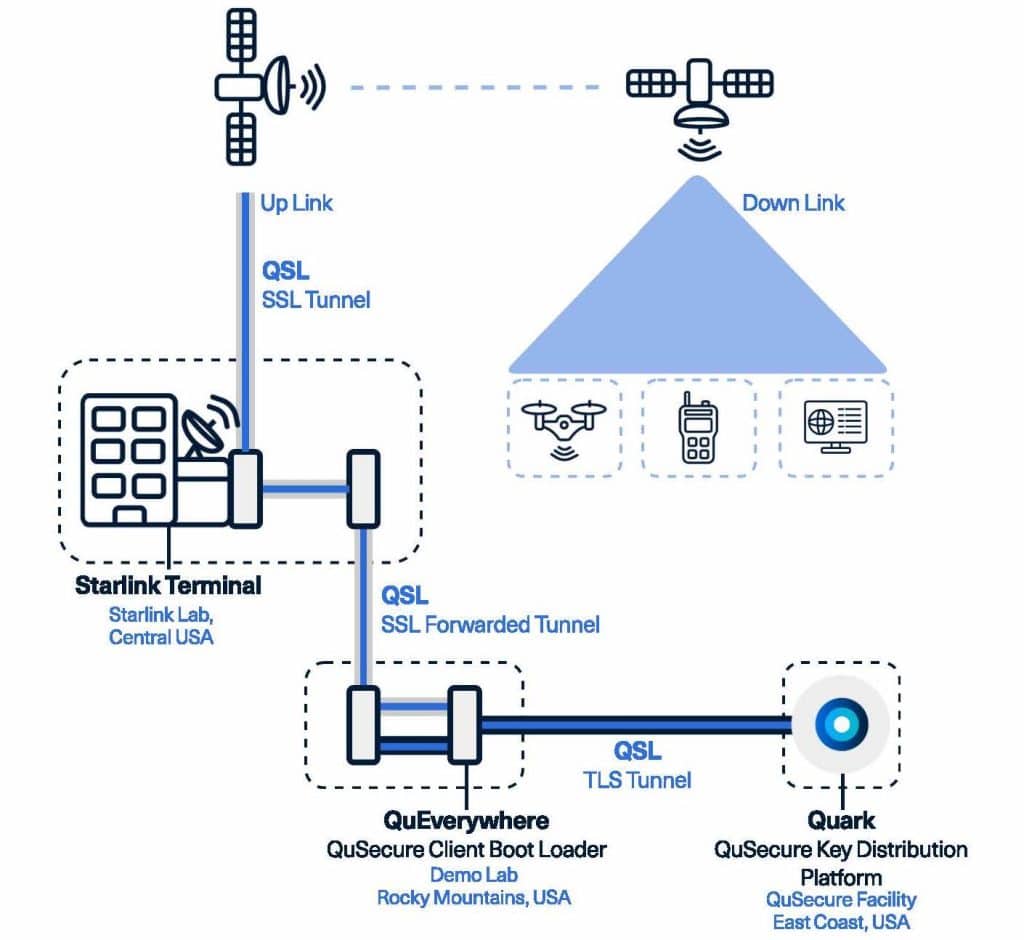 The company uses post-quantum cybersecurity (PQC) which, as Krauthamer explained, is different from quantum key distribution (QKD), another approach to securing communications against future quantum computing attacks.
"A key benefit of our solution is that we scale via software," she said. "This means we do not need to place hardware on the satellites whose communications we're protecting."
More traditional communications service providers such as AT&T and Verizon also have been exploring ways to protect data from future decryption via quantum computing.