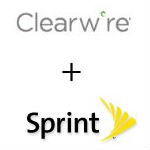 When Japan-based wireless operator Softbank announced its plan to acquire control of Sprint several months ago and subsequently Sprint expanded its ownership in Clearwire, some people speculated that it was really Clearwire that Softbank was after to begin with. Sprint's plan to acquire the remaining 49% of Clearwire it doesn't already own, announced today, suggests those people may have been right.
On a conference call this morning, Sprint Chief Financial Officer Joe Euteneuer said Clearwire's spectrum holdings were the "most important" reason for the acquisition. Clearwire has extensive holdings in the 2.5 GHz band and has already begun to deploy TDD-LTE, a form of 4G LTE that uses time division duplexing – the same type of LTE that Softbank has deployed in its home market of Japan.
Clearwire initially deployed WiMax but after the nation's major wireless operators opted to use LTE rather than WiMax for their 4G deployments, Clearwire began shifting its network toward TDD-LTE. That was the only LTE option Clearwire could use because its license holdings are for unpaired spectrum and the FDD-LTE that other U.S. carriers have chosen requires paired spectrum.  Clearwire has not been able to build out TDD-LTE as quickly as it would like, however, because it has run short on cash.
On today's conference call Clearwire CEO Erik Prusch said the company's board voted to accept Sprint's bid for the company after evaluating other options, including selling spectrum, financial restructuring, seeking wholesale customers in addition to Sprint, and others. The ability to attract major wholesale customers other than Sprint has been complicated by potential customers' concerns about Sprint's level of control over Clearwire, he said.
Sprint's plan to acquire Clearwire is contingent on Sprint closing its merger with Softbank and requires a majority of non-Sprint shareholders to approve the purchase. Euteneuer said the company already has obtained the support of several key shareholders including Bright House Networks, Comcast and Intel.  If the transaction gains the needed regulatory and shareholder approvals it is expected to close in mid-2013 when the Softbank/Sprint merger is also expected to close.
As part of the agreement announced today, Sprint said it would provide up to $800 million to continue the TDD-LTE deployment that Clearwire already has planned.  Sprint CEO Dan Hesse said Sprint ultimately would aim to convert Clearwire's WiMax network to LTE but that such a move would not be a top priority.
Hesse said Sprint would aim to begin using TDD-LTE technology on the Clearwire spectrum in 2014. He said the gating factor would be obtaining handsets supporting TDD-LTE capable of operating in the 2.5 GHz spectrum band. Clearwire's network currently only supports connectivity via modems and hotspots.
Industry sources previously told Telecompetitor that it should not be difficult for device manufacturers to provide devices that can support both TDD-LTE and FDD-LTE capability, which would enable Sprint to offer a single device for use on its existing FDD-LTE networks and Clearwire's TDD-LTE networks.
Financial details of the Clearwire-Sprint transaction can be found in today's announcement.