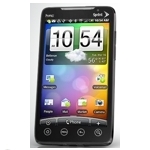 With pre-registration starting yesterday, Sprint and Taiwan's HTC will introduce what's being touted as 'the world's first 4G' smartphone. Powered by Google's Android 2.1 mobile OS, Sprint's WiMAX network and available this summer, the HTC EVO 4G handset boasts "a multimedia experience at 4G speeds that is second to none, making it possible to download music, pictures, files, or videos in seconds, not minutes," the companies announced yesterday. Sprint claims average download speeds for its 4G network of 3 – 6 Mbps.
The HTC EVO 4G handset features include:
large, 4.3-inch touchscreen and 'pinch-to-zoom' display (no QWERTY keyboard)
a 1 Ghz processor
an 8.0 megapixel auto-focus camera with HD video camcorder
an additional forward-facing 1.3 mexapixel camera
HDMI output for 720p HD video transfer
built-in social networking integration for twitter, Facebook, and Flickr
a built-in mobile hotspot capability, allowing up to 8 Wi-Fi connected devices to share its WiMAX connection
visual voicemail
In addition to the already large and still growing host of mobile apps being developed for Android handsets (30K at last count), the mobile OS also makes use of Google Goggles, which enables users to search with pictures as opposed to words. Picture search capability currently works with "books, DVDs and barcodes to landmarks, logos, artwork and even wine labels," according to the news release. There's also built-in, push button voice-to-text technology that enables users to compose text messages by speaking.
Handset pre-registration is open at www.sprint.com/evo. Customers will be able to purchase HTC EVO 4G this summer through Sprint retail channels and national retail partners RadioShack, Best Buy and Walmart. Pricing has yet to be announced, nor is Sprint revealing how monthly plans will integrate both 3G and 4g access. Expect a premium.
"HTC and Sprint have a strong history of working together to bring consumers technologies and advancements that make their lives easier," Peter Chou, HTC's CEO, commented. "We believe that the HTC EVO 4G represents the best of Sprint and the best of HTC working together to bring an unmatched device to the U.S. This combination of HTC and Sprint innovation will allow people to do even more while on the go, faster than ever on the Sprint 4G network."
Following Clearwire's market build out, Sprint's rolled out 4G/WiMAX access in 27 U.S. markets covering some 30 million people so far and expects to increase that 120 million by the end of the year with launches in multiple markets, including Boston, Denver, Houston, Kansas City, Minneapolis and New York City, among others.