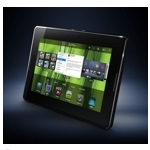 It's interesting to watch the new tablet product segment evolve, especially considering tablets are less than a year old and are already the fastest adopted consumer electronic product in history. This week's CES is awash in tablet news, as companies scramble to match the unprecedented success of Apple's iPad. Analysts have estimated that 50 new tablet computers will be announced at CES this week.
Among all those announcements, one that caught my eye is that Sprint and RIM will launch a 4G version of the upcoming BlackBerry PlayBook tablet this summer. By my estimation, that will be the first tablet with built-in 4G connectivity to hit the market. Sprint currently offers 4G coverage in 71 markets, by way of Clearwire's WiMAX network.
Other 4G enabled tablets will follow, but Sprint may be able to leverage the 'first' 4G tablet in much the same way they've been able to successfully leverage the first 4G smartphone, the HTC Evo. How long that leverage will continue to pay dividends remains to be seen, because their first-to-market 4G advantage is disappearing by the hour. You can rest assured a competing 4G LTE version of the PlayBook will be in the mix at some point in the future.
The 4G BlackBerry PlayBook tablet will have 4G and Wi-Fi radios and features a 7 inch screen, 1 GHz dual-core processor, 1 GB of RAM and the new BlackBerry Tablet OS. Pricing was not revealed.
A non-4G version of the BlackBerry PlayBook is scheduled to launch sometime in the first quarter of this year