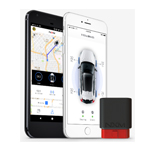 A Sprint connected car offering launched today features a blockchain-powered IoT security system designed to guard against hackers.
The offering is built on a platform from NXM Labs that includes high speed Wi-Fi, vehicle health monitoring and safety features. Maintenance reminders, preventative notifications, scheduling and the ability to book service appointments are included. The platform will use Sprint's LTE network and add capacity when the carrier's 5G network launches during the first half of next year.
The key differentiator appears to be the approach to security. "Through the power of blockchain technology, NXM provides an advanced level of security and advanced capabilities to vehicles that might not otherwise have it, even extending Wi-Fi," Ivo Rook, the Senior Vice President of IoT for Sprint, said in a press release. "With the power of Sprint's high-speed LTE and upcoming 5G network behind the technology, consumers will be able to experience the latest in automotive technology, even in early-model vehicles."
Other features include smart parental controls, anti-theft functionality, roadside assistance and collision detection. The system also makes it possible to find nearby parking and low-cost gas and to track expenses, according to a press release. Multiple family vehicles can connect to each other.
Vehicles are a battleground for vendors and service providers both in terms of autonomous operations and communications functionality.
In March, Verizon marked the completion of the integration of its existing connected car decision with recently acquired fleet and mobile management software companies. The new brand, Verizon Connect, is the product of $5 billion in investments. The three organizations that comprise the new entity formerly were Verizon Telematics, Fleetmatics and Telogis.
Late last year, U.S. Cellular introduced CruiseConnect, a connectivity platform developed by ZTE and Modus, which developed the accompanying mobile app. The platform offers safety notifications and can serve as a fleet management tool for businesses.