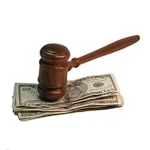 Boy what a difference a few months make. Until very recently, Sprint, Comcast, Time Warner Cable, and Cox were all business partners, hoping to be in wireless bliss together. Now all of those cable companies have abandoned Sprint (and Clearwire) for Verizon Wireless, striking an unprecedented spectrum and resale partnership with the Sprint competitor. Is it time for a little payback?
Sprint is now suing these former business partners (plus Cable One), claiming their VoIP service violates Sprint patents, reports Bloomberg News. According to the Bloomberg report, Sprint has filed suit in Kansas City, claiming the cable companies "…are using technology it patented in the 1990s for transmission of voice data packets."
Time Warner Cable used to use Sprint for their voice services until recently, when they decided to go it alone. Sprint has a long history of wholesaling voice services to the cable industry.
Somewhat in Sprint's favor is the fact that Vonage lost a similar patent suit back in 2007, agreeing to pay $80 million to license the technology. PriorSmart.com has more details about the actual litigation, including copies of the complaints.
Sprint used to generate a nice slice of revenue from these wholesale voice deals (and to a lesser extend, still does thanks to agreements with a host of smaller cable MSOs). They had grand plans of generating significantly more through both 3G MVNO and 4G resale partnerships with the cable industry. The wireless plans are all but dead and the wholesale voice business is declining.
What better way to replace that revenue than a VoIP patent lawsuit against virtually the whole cable industry?