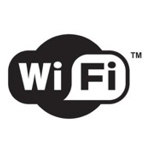 Sprint Secure Wi-Fi, which was introduced on April 27, secures mobile users at unprotected public Wi-Fi hotspots by encrypting data that flows between the device and the Internet. It's a good example of how the heightened awareness around security can create business opportunities for carriers, all the way down to the individual consumer level.
Sprint Secure Wi-Fi is a free feature of the carrier's Mobility-as-a-Service unlimited plan or $1.99 per user per month as a subscription service.
"Sprint Secure Wi-Fi provides much-needed protection to businesses and the general public, most of whom don't realize how vulnerable they're allowing themselves to be when connecting to a public Wi-Fi network," Mike Fitz, vice president of product for Sprint said in a press release. "This solution offers superior protection in an easy-to-use way, benefiting both the user and the owners of the data within their devices."
Sprint Secure Wi-Fi works on all Sprint subscribers' iOS and Android devices as "Smart VPN." When the service is enabled, the capability automatically turns on and offers protection when the subscriber uses an unsecure Wi-Fi network. It turns off when the device returns to a cellular network or loses the signal from the unsecured network.
Features of Sprint Secure Wi-Fi include:
Streamlined security – Gain instant security when connected to unsecure public Wi-Fi networks, such as those found in coffee shops and libraries, and have the option for the solution to encrypt data on any secured Wi-Fi network.
Automatic protection – Quickly identifies if a Wi-Fi network has password protection and/or encryption enabled. If either is missing, the application will "turn on," automatically encrypting data sent between the device and internet.
Simplicity – Secure Wi-Fi is a smart solution that automatically detects the need to turn on or off, relieving the user of the need to do it themselves.
The service also is available on a 24-hour basis for 99 cents.