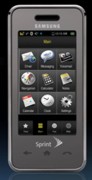 Sprint is about to launch its latest response to the iPhone craze, the Samsung Instinct. The new Instinct is scheduled to be available on June 20th. Sprint hopes the Instinct may help stop the bleeding of subscribers who are leaving Sprint in droves. Prime beneficiaries of the Sprint exodus have been AT&T and Verizon. The iPhone may be just the excuse that hundreds of thousands of Sprint subscribers need to leave Sprint and go to AT&T. Sprint hopes the Instinct may cause some of those subscribers to pause and evaluate this iPhone "like" option. The Instinct is very iPhone like, offering many of the same features, including:
touchscreen
visual voicemail
up to 8GB of memory
music and other multimedia options
web browsing
Unlike the iPhone, the Instinct offers a slide out QWERTY keyboard. Sprint may have some challenges with the Instinct because its scheduled release is right in the middle of the rumored release of the 3G iPhone, rumored to be announced on or around June 9th. The iPhone's biggest drawback has been the lack of true 3G type wireless broadband speed, which handicapped the many web enabled applications of the iPhone. With that problem solved, the iPhone may be even a more formidable adversary than it has been in the past, which wouldn't be good news for its competitor's or the wireless providers who do not have access to it.