Sprint HPUE technology, announced today, aims to overcome certain limitations of the company's 2.5 GHz spectrum, which according to the company, carries more traffic than any other spectrum band the company uses. Sprint said the high-performance user interface (HPUE) technology extends coverage range 30%, while maintaining capacity and speed.
The range extension applies to indoor as well as outdoor coverage, Sprint said – an important capability, considering that the company sees most wireless traffic generated indoors.
With HPUE, Sprint customers gain "an even better experience . . . with increased coverage, more capacity and faster speeds," said Sprint Chief Technology Officer Dr. John Shaw in a blog post.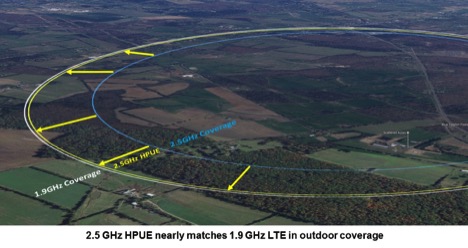 Behind Sprint HPUE
HPUE is designed specifically to work in the 2496-2690 MHz spectrum band, also known as the 2.5 GHz band – a block of unpaired spectrum suitable for TDD-LTE, the time division duplex version of 4G LTE technology.  In a press release, Sprint describes HPUE as a "new power class" for end-user devices operating in the 2.5 GHz band.
Sprint is the only major U.S. carrier deploying TDD-LTE. The other three national carriers have deployed frequency division duplex LTE (FDD-LTE), which uses paired spectrum.
TDD-LTE has seen deployment, including in the 2.5 GHz band, in other parts of the world including by Sprint parent Softbank, however. Shaw estimates that about 600 million devices operating in that band have been shipped worldwide, making it "one of the largest LTE ecosystems in the world."
Carriers using the technology argue that it is more flexible than FD-LTE because it allows the carriers to dedicate more spectrum to downstream communications, which could be an advantage as network traffic becomes increasingly data-centric.
Sprint worked closely with the Global TDD LTE Initiative in developing HPUE and has gained commitments from Samsung, LG, Motorola, Alcatel, Qualcomm and other vendors to support the technology. According to a video posted on the Sprint website, "leading manufacturers expect to launch iconic devices in the first half of 2017" that will support HPUE. Sprint's network is already ready for the initial rollout of HPUE, according to Shaw "including in our 250 LTE Plus markets."
In the U.S., Sprint has built out its 2.5 GHz spectrum covers areas with a total population of more than 200 million and continues to add more areas, Shaw noted in his blog post. Shaw also piqued readers' interest, noting that "you'll also see us push 1 Gbps speed boundaries very soon."