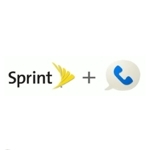 An announcement like this, Sprint to offer Google Voice, would normally get more attention, but there was some rather interesting merger news that foreshadowed it. With the move, Sprint becomes the first major carrier to offer Google Voice on its handsets.
There were ways to use Google Voice on handsets prior to this announcement, but it required users to download the application, figure it out for their particular handset, and hope it works. With this news, Sprint and Google will take care of that integration and 'natively' offer it on Sprint's CDMA handsets.
In fact, with this integration, Sprint will allow "…Sprint customers to set their existing Sprint wireless phone number as their Google Voice number." That's big news, because now subscribers do not have to change their number to take advantage of Google Voice, which previously required you to port your number to Google and establish a new wireless number with your wireless carrier.
"As part of our partnership with Google, our customers will appreciate having the easiest set-up experience of any wireless carrier for Google Voice across all of our CDMA phones, using their existing Sprint phone number," said Kevin McGinnis, vice president-Product and Technology Development, Sprint in a news release. "It's now easier than ever to truly live a mobile lifestyle with the ability to manage multiple devices through intelligent call routing and online controls using just one phone number – your existing Sprint number."
http://www.youtube.com/watch?v=Rp8Wvknh_QQ
As we've discussed before, Google Voice is a voice application which provides a variety of services and features including simultaneous ring, find me follow me, and unified messaging, among many others.
For Sprint, the Google Voice tie up offers real differentiation from other carriers. Verizon has a similar partnership with Skype, albeit with different features.
The move illustrates that over-the-top refers to more than just video services and carriers are feeling their way through how to embrace them. This Sprint-Google Voice initiative highlights the strategy of a carrier like Sprint embracing their data future and moving away from their voice legacy.