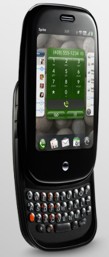 Palm unveiled their long awaited new handset and mobile OS, Pre and webOS, respectively. Pre will launch on Sprint's network sometime in the first half of 2009, giving them a handset to do battle with the iPhone, G1, and Blackberry Bold. Sprint has been missing a marquee smartphone to match the buzz and momentum of their competitors. The Palm announcement has been well received, even impacting their stock price by a positive 35% in the hour following the Pre announcement at CES.
Pre looks quite interesting and attempts to create differentiation over competing smartphones by being "constantly connected to the web." Its key selling point is a new operating system, webOS, which works to synchronize all of the information for its users, regardless of where that data resides. Think of a device which attempts to bridge home and work, Outlook and Facebook, in a new simplistic way. The heart of all of this connectiveness is Palm Synergy, which "… brings your information from all the places it resides into one logical view. You don't have to worry about tracking multiple calendars, contacts and messaging applications…" Other features of the new smartphone include:
High-speed connectivity (EVDO Rev. A or UMTS HSDPA)
Wi-Fi
Integrated GPS
Large 3.1-inch touch screen
Slide-out QWERTY keyboard
3-megapixel camera with LED flash
Bluetooth 2.1 + EDR with A2DP stereo Bluetooth support
8GB of internal user storage
Pre definitely has a cool factor to it. For example, to charge the phone, you simply place it on its Touchstone battery charger – no need to actually plug anything in. Barring unforeseen technical or execution gaffes, Palm and Sprint appear to have raised the bar for smartphone battles. This one will be fun to watch, as all of the major carriers try to position their exclusive smartphone for wireless dominance. Who will win?