The Sprint Magic Box, announced today, is an indoor all-wireless small cell that uses the company's cellular network for both the final link to the end user and for backhaul from the small cell to a traditional cell tower, a.k.a. microcell, where traffic is handed off to a landline connection. Customers will be able to install the small cell in their homes or businesses at no charge to gain improved connectivity, which also will be usable by other Sprint customers within 100 meters, the company said.
All-Wireless Small Cell
Sprint isn't the first company to offer small cells to customers to boost customers' coverage. But typically, carriers rely on the cellular network only from the small cell to the end user device, relying on the customer's landline broadband connection for connectivity to the internet. According to Sprint, the company's approach is made possible by the company's broad spectrum holdings.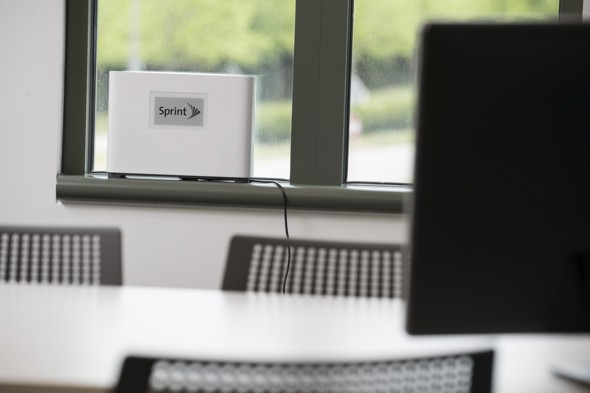 A Sprint spokesperson told Telecompetitor that Sprint Magic Box provides 2.5 GHz data coverage to customers and it uses 2.5 GHz or 1.9 GHz for backhaul. A press release notes that the company has 160 MHz of spectrum in the 2.5 GHz band in the top 100 U.S. markets.
The Sprint Magic Box is about the size of a shoebox, Sprint said. It provides average coverage of 30,000 square feet indoors and extends coverage 100 meters outside a building, Sprint notes in a video on its website. According to the company, the small cell can increase upstream and downstream data speeds by as much as 200%.
[embedyt] https://www.youtube.com/watch?v=rthFzmo1aQo[/embedyt]
The indoor all-wireless small cell is "simply placed near a window and plugged into a power outlet," Sprint said in today's press release. According to the company it configures itself.
Sprint also notes that the all-wireless small cells can help support the company's plans to densify its network to support 5G service – a topic that has received a lot of attention in recent days.
Sprint Magic Box deployment has begun in several cities, including Denver, San Francisco, Indianapolis, New York, Chicago and Houston and average download speeds in those markets have improved significantly as a result, Sprint said.