Sprint expects to have a 1,000-square mile 5G coverage area when it launches the mobile service in nine markets in the first half of 2019. The company's first four markets will launch in May and will include Chicago, Atlanta, Dallas and Kansas City, to be followed shortly after by Houston, Los Angeles, New York City, Phoenix and Washington D.C.
Sprint said previously that it would be the first carrier to have a 5G smartphone, which would come from LG, and the carrier today provided some additional information about that device, noting that the product would be the LG V50 ThinQ 5G. The carrier apparently expects to have this device when it launches 5G service, as a press release states that "With this device, Sprint customers will be among the first in the world to experience the incredible speed, reliability and mobility of 5G when it launches this spring."
In addition to the LG smartphone, Sprint also plans to offer an HTC 5G hub at its initial launch – a device similar to the hotspot that AT&T is offering. Beginning "this summer" Sprint also expects to offer a 5G version of the Samsung Galaxy S10 smartphone.
Also today, Sprint said it will expand its contract with Google to provide 5G service in support of the Google Fi mobile offering. That offering relies on a combination of public Wi-Fi and mobile service from Sprint and other carriers.
Sprint 5G Vs. Other Carriers
AT&T and Verizon already have launched 5G service, but Verizon's initial service is a fixed one, and AT&T's deployment currently lacks smartphones and instead is offered with a 5G/Wi-Fi hotspot. Without mentioning other carriers by name, a series of press releases from Sprint today emphasizes key differences between what AT&T and Verizon have done so far and what Sprint plans to do.
For example, Sprint notes that it is deploying service using spectrum in the 2.5 GHz band – a decision that should enable the carrier to obtain broader coverage more quickly in comparison with using millimeter spectrum as AT&T and Verizon initially are doing. Hence Sprint's emphasis on its 1,000-square mile initial coverage area and its statement that it will cover "nearly 30 square miles" in midtown and lower Manhattan and "approximately 230 square miles spanning the greater Dallas/Fort Worth area."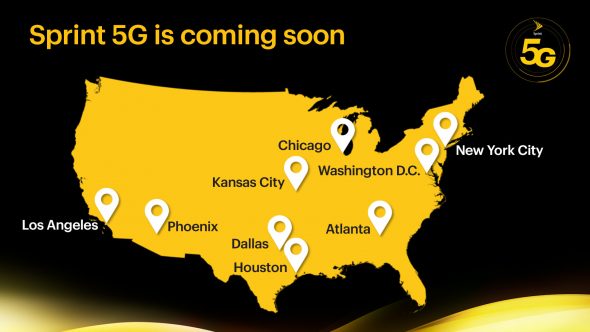 In theory, millimeter wave spectrum should support higher speeds than 2.5 GHz spectrum can support, but the amount of spectrum that a carrier has in a band also impacts speeds and Sprint has a large amount of spectrum in the 2.5 GHz band. A press release from Samsung, one of Sprint's 5G vendors, states that the "solution" Samsung is providing Sprint "is capable of achieving more than 1.5 Gbps throughput speeds," which is similar to what other carriers have achieved.
Other network equipment providers with whom Sprint is working include Nokia and Qualcomm.
The LG smartphone that Sprint plans to use has some distinctive features, including three rear cameras and two on the front, a Boombox speaker, a 4,000-mAh battery and a touchless control that lets users perform common tasks hands-free.
The HTC 5G Hub is an "exclusive," Sprint said, and will support 4K video streaming, virtually buffer-free gaming and 5G hotspot connectivity for up to 20 users.