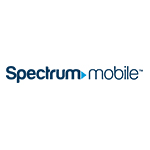 Charter announced the expansion of their Spectrum Mobile footprint to include all Charter markets. Charter did a soft launch of Spectrum Mobile earlier this year in July.
As we reported in July, Spectrum Mobile follows Comcast's Xfinity Mobile model closely, with one major exception – pricing. Both Spectrum Mobile and Xfinity Mobile offer an unlimited plan for $45/month. But for their buy-by-the-gigabyte model, Charter charges $14 per GB, compared to $12 for Xfinity Mobile.
Like Xfinity Mobile, Spectrum Mobile is a hybrid MVNO of sorts, using Wi-Fi networks for voice and data when a strong signal is present. When Wi-Fi is lacking, the service defaults to Verizon's national 4G LTE network. Charter and Comcast recently launched a joint venture to help them develop back-office systems for their mobile ventures.
"As an intelligent connectivity provider, Spectrum Mobile brings unprecedented flexibility and value to the wireless marketplace," said Danny Bowman, Chief Mobile Officer for Charter in a prepared statement. "Spectrum Mobile gives customers the freedom to use their favorite devices the way they want, saving them hundreds of dollars annually off their mobile bill, all while reaping the benefits of Charter's superior, value rich network and services."
Handset availability has expanded since the July soft launch, when only Samsung devices were featured. The Spectrum Mobile website now includes iPhones from version 7 onward, but also includes the iPhone SE. An LG device is also featured.
[embedyt] https://www.youtube.com/watch?v=aPK6hUwMdgU[/embedyt]
Charter says device availability will expand later this year and will also include bring your own device (BYOD) capability for the Spectrum Mobile footprint.
Both Charter and Comcast are investing heavily in mobile and currently use it as a value add for their home Internet service, which is required to subscribe to these mobile offers. Morgan Stanley Research recently predicted these efforts may pay off for Comcast and Charter. The firm forecast that cable mobile efforts may end up taking half of all new mobile net adds by 2020. Xfinity Mobile counted 781K mobile subscribers as of the end of 2Q18.