PalmettoNet, a regional fiber network owned by 11 independent telcos, has won a big contract to provide fiber optic connectivity to more than 650 cell towers to be built by a major U.S. operator in PalmettoNet's North and South Carolina serving territory.
PalmettoNet won the deal through an RFP process, noted PalmettoNet Director of Marketing Roddy Broadnax in an interview. Broadnax also noted that his company had a "long term existing relationship" with the wireless operator and that "we were proactive in how we would build and support" the network.
PalmettoNet is the wholesale unit of Spirit Communications, which operates a fiber network in Georgia and the Carolinas that serves businesses and government agencies. Spirit's 11 owner companies conduct their wholesale businesses through PalmettoNet.
The name of the wireless carrier in PalmettoNet's new deal was not revealed, but in a press release Broadnax noted that the carrier is "a major provider that everybody knows."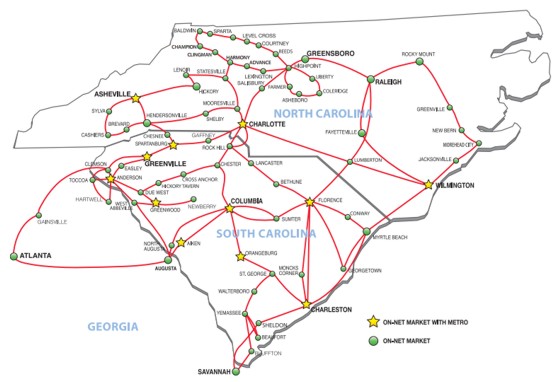 The PalmettoNet FTTT Deal
Spirit and its 11 telco owners could benefit indirectly from the fiber builds that will be made to support the new cell tower contract, Broadnax said.
"We are in a huge fiber build-out for our enterprise and government divisions and with our acquisition of SCI back in December we are utilizing fiber-to-the-tower as a way to continue to grow our relationships with carriers and expand our fiber footprint," said Broadnax. SCI was the telecommunications unit of SCANA Corporation, a South Carolina-based energy company that built a fiber network throughout parts of the Carolinas.
With the new PalmettoNet deal, PalmettoNet's wireless operator customer could be an anchor tenant for PalmettoNet, potentially enabling the company to build a business case for fiber deployment to more areas more quickly than if the company did not have the FTTT deal.
PalmettoNet is no stranger to FTTT. Some owner companies have their own cell towers and PalmettoNet has considerable FTTT business. "We have long term relationships with all the major carriers," said Broadnax.