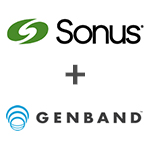 A planned Sonus Genband merger, announced today, aims to "create a leader in next-generation communications networking, with increased scale and market reach across products, customers and geographies," the companies said. Shareholders of each company will own approximately 50% of the combined entity.
Sonus CEO Raymond Dolan will be CEO of the merged entity, while Genband CEO David Walsh will oversee the Kandy cloud-based communications platform as a service (CPaaS)  business, which comes from the Genband side and will be a division of the combined company.
Sonus Genband Merger
Both Sonus and Genband have had a strong focus on IP communications and both offer session border controllers, softswitches and media gateways. But each company also offer some products that are complementary to these offerings. For example, Genband has application servers and CPaaS, while Sonus offers signaling equipment.
A press release announcing the Sonus Genband merger emphasized the complementary aspects of the two companies' product lines.
"The transaction combines Sonus' software-based leadership position in real-time communication virtualization, cloud-based session initiation protocol (SIP) and 4G/voice-over-LTE solutions and security initiatives with Genband's network modernization, unified communications and mobility and embedded communications solutions," the release states.
The combined company will have a deep telecom legacy, as Genband has acquired numerous manufacturer assets over the years. Genband in 2010 acquired Nortel's Carrier VoIP and Application Solutions Business.  Since then the company also has made other, primarily VoIP-related acquisitions including Cedar Point Communications, Fring, and uReach.
Sonus currently counts 695 customers globally, with Genband counting 850 globally. The majority of revenue from both companies comes from North America. Total 2016 revenue for Sonus was $253 million, and $427 million for Genband.
Financial details about the Sonus Genband merger can be found in this press release.