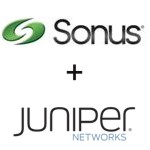 Software defined networking (SDN) is the latest buzz for telecom and vendors are lining up to take advantage of it. The latest evidence – Sonus and Juniper just announced an alliance to "…jointly deliver integrated solutions based on Software Defined Network (SDN) principles." The pair will integrate the Sonus 5000 Series of Session Border Controllers (SBCs) and Juniper's MX Series Routers.
SDN injects a software approach into the control plane of core networks, decoupling hardware from controlling networking and routing decisions. In a traditional networking environment, firmware within switches and routers determine how network traffic is managed. But in an SDN environment, networking decisions can be managed from outside of the switch/router and changed on the fly, allowing network operators to more efficiently manage traffic based on customer demand.
SDN gives network operators more control over the network flow, and potentially lowers hardware costs, because hardware doesn't need as much built-in intelligence. Like many things today, the move to the cloud drives much of this shift. Virtualization and cloud computing are impacting how networks are built and managed.
This shift has traditional hardware vendors scrambling, especially companies like Cisco and Juniper, who probably stand to be most impacted by the SDN trend. Their core networking equipment traditionally fulfilled some of the aspects that SDN now addresses, but at a higher cost, so they need to respond, and quickly.
By pairing their core routers with Sonus session border controller technology, Juniper is taking a faster route to address SDN for the growing unified communications trend. "By partnering with Sonus to fully integrate and test these solutions, we believe we are simplifying the delivery of tiered services required by our service provider customers," said Aruna Ravichandran, vice president, product and solutions marketing of Juniper Networks.
Sonus and Juniper are touting that this alliance will help service providers better target the surge in demand for video services and unified communications. The joint solution "…pools intelligence from the application/session layers of the OSI stack with the network layer, allowing service providers to effectively deal with the surge in video and Unified Communications (UC) traffic without resorting to the overprovisioning of networks typically required in the past," the companies said.