Sponsored Content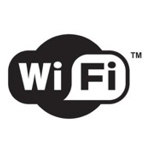 The number of connected devices in the home is growing at an astounding rate. Home networks have become more complex to support than ever before for service providers. Wi-Fi issues challenge your business metrics, complicate the customer experience, increase frequency and complexity of support calls and lead to more truck rolls.
For end users, it has become a frustrating experience due to their growing reliance on technology, more devices on the network, interoperability issues and increased bandwidth needs. The good news for service providers is that the growing dependence on Wi-Fi has created an opportunity for them to differentiate from the competition and grow their revenues.
Identifying the current Wi-Fi challenges
We recently polled 150 service providers and found that 63.5% of providers said that more than 40% of their customers have Wi-Fi issues. In fact 1 in 4 providers said that more than 60% of their customers have Wi-Fi issues. Do your customers recognize or understand the difference between issues with your network, their home Wi-Fi or their connected device? In most cases the answer is "no," but regardless of where the issue lies, the customer is going to associate the issue with their service provider.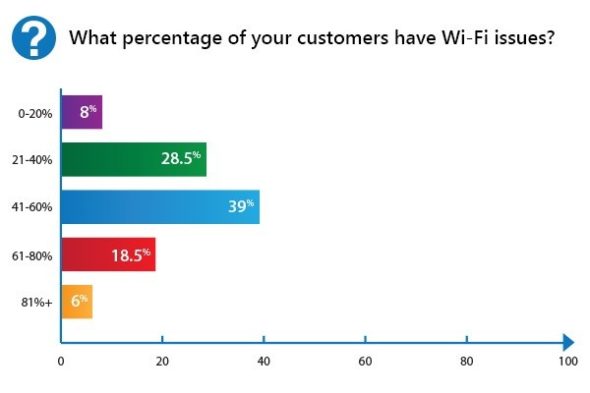 The growing number and complexity of connectivity issues is leading to more service calls, often during evenings and weekends when customers are using their devices. Do you have appropriate support staffing levels and experience to handle these complicated issues quickly over the phone, or are you relying heavily on expensive truck rolls?
Turning away customers because the issue appears to be with their device or home network is not a good long-term strategy, and will lead to increasingly frustrated customers that will eventually churn. Have your support staff and technicians grown tired of the Wi-Fi related trouble calls and the amount of time needed to address this growing problem?
Fortunately there are a number of ways you can improve the customer experience, reduce the impact to your staff, and even drive revenue growth.
Capitalizing on the Wi-Fi opportunity
Customers are willing to pay more for a better Wi-Fi experience. A popular solution to address the Wi-Fi challenges and increase ARPU is to create a managed Wi-Fi program. These programs can be structured in several ways. For details on what should be included in your managed Wi-Fi program check out our whitepaper, Top 10 Things to Consider When Developing Your Managed Wi-Fi Program.
It's important to make sure that you have a solution that addresses most, if not all, of your customers. While 63% of consumers have issues with their Wi-Fi, our poll results indicate that only 1 in 4 providers even cover more than 20% of their customers with a managed Wi-Fi program. As a result, only a small percentage of their customers are getting the support they need, and existing support staff and techs are still struggling with Wi-Fi related trouble calls.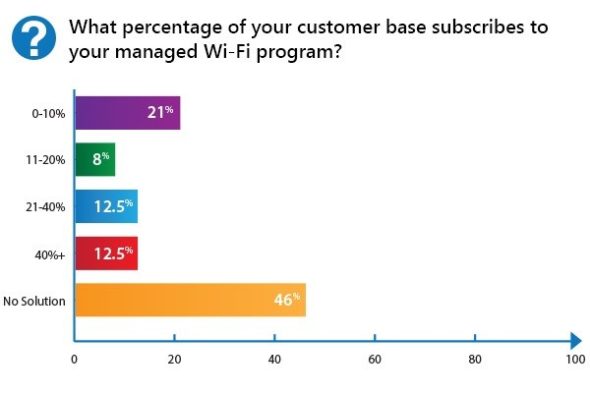 Missing Pieces to the Wi-Fi Puzzle
When it comes to Wi-Fi, the goal for service providers should be to reduce Wi-Fi related trouble calls and associated support costs, improve the customer experience, and increase revenue with value-added solutions. The issue they are running into is that a majority of their customers have Wi-Fi issues, but only a small percentage of these customers are on plans that address those issues. So what can you do to get more customers on your paid managed Wi-Fi program and more efficiently support the rest of your customer base?
It is imperative that you provide a Wi-Fi self-assessment app like Identi-Fi to all Internet subscribers. This serves to empower the customer to do self-help which allows them to quickly resolve issues, or reduce average handle time when it is necessary to call their service provider. When trouble calls are received in this case, it is a great opportunity to expound on the benefits of the managed Wi-Fi or Wi-Fi Support program.
The other often-overlooked component to a successful Wi-Fi solution is having the right level of support. It is important to have the right personnel and tools. With the increasingly complicated and large amount of issues, you may find that it is much quicker and easier to partner with someone that has the necessary coverage, training and tools already in place. In addition, it is essential that your solution allows for issues to be resolved quickly and remotely.
Do you have the right tools in place? Are you able to efficiently resolve Wi-Fi issues quickly for your customers? Have you been able to capitalize on the Wi-Fi opportunity? Whether you are looking to develop a managed Wi-Fi program, or strengthen your existing one, talk to Wi-Fi experts for advice.
Find a true partner that will work with you to fit a solution to your needs rather than force your problems to fit their solution. To learn more about solving the Wi-Fi puzzle, visit www.securitycoverage.com or reach out to SecurityCoverage at partners@securitycoverage.com or (877) 725-4839.

Interested in publishing a sponsored post to Telecompetitor? Contact us or call 240-450-2161.